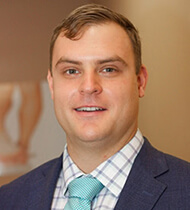 Dr. Russell Samofal is a podiatrist specializing in foot and ankle treatment. He is board-certified by the American Board of Podiatric Medicine, ABPM.
Dr. Samofal attended the New York College of Podiatric Medicine, where he earned his doctorate degree in Podiatric Medicine, and was on the Dean's List. He completed his residency in foot and ankle surgery at the Millcreek Community Hospital in Pennsylvania. He also graduated with a Masters of Medical Education degree from Lake Erie College of Osteopathic Medicine. Dr. Samofal received his Bachelor of Science degree from St. Francis College in New York where he graduated Summa Cum Laude in Biomedical Science.
Dr. Samofal particularly enjoys developing a personalized treatment plan to match the lifestyle of his patients. He takes the time to understand his patient's symptoms and overall health goals to give correct diagnoses to ensure the continued well-being of his patients. He is particularly passionate about developing non-surgical solutions for his patients. Click here for a full list of podiatric conditions treated at the Podiatry Center of New Jersey by Dr. Samofal.