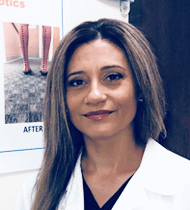 Dr. Jaclyn Ramirez is an experienced podiatrist who specializes in conservative and surgical management of the foot and ankle. She treats all conditions related to the foot and ankle in both children and adults.
She graduated Cum Laude from Lehigh University with a Bachelor of Science in Biology. Dr. Ramirez then received her medical degree from Temple University School of Podiatric Medicine, and completed surgical residency training at Passaic Beth Israel Medical Center (now St. Mary's General Hospital) in Passaic, NJ.
Dr. Ramirez is board-certified by the American Board of Foot and Ankle Surgery. She is bilingual, speaking both English and Spanish, and has over 10 years of professional experience.