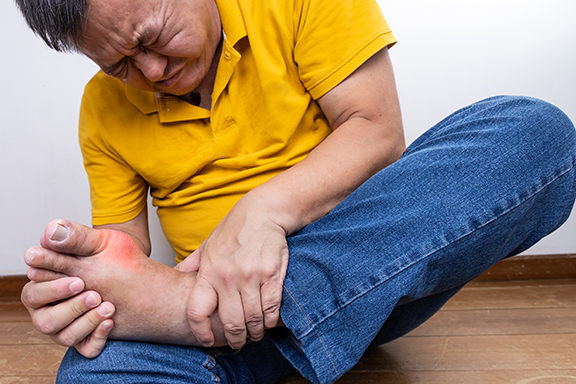 Between family dinners, office parties and get togethers with friends, there's a lot of feasting going on at this time of the year! That's why at Podiatry Center of New Jersey, we usually see an increase in the number of Passaic, Bergen, Morris, Essex, Hudson, Union, Ocean and Middlesex County patients with gout. Gout can be triggered by several foods that are commonly found on holiday tables. Get the facts about this condition which can affect your feet below:
Gout is an arthritic condition that most often strikes the joint in your big toe.
Gout occurs when excess uric acid crystallizes in a joint.
Although naturally present in our bodies, patients with gout may produce too much uric acid, have difficulty eliminating it from the body, or both.
Uric acid is also the by product of the breakdown of chemicals called purines. Purines are found in certain foods including: red meat, shellfish, organ meats, rich sauces, red wine and beer.
In addition to the food you eat there are other potential factors that may increase your risk for gout such as stress, being overweight, taking certain medications, or having a condition such as diabetes or high blood pressure.
Symptoms of a gout attack include extreme pain in the joint that often occurs in the middle of the night. It is usually accompanied by signs of inflammation such as swelling, redness, and a feeling of heat around the joint.
Gout occurs most frequently in men ages 40 to 60 but can occur in women and men at any age.
If you suffer a gout attack, it's important that you make an appointment to see one of our podiatrists. The foot doctor will examine your feet to rule out other possible causes for your symptoms. Once gout is diagnosed, the foot doctor will be able to treat it and help identify triggers so you can avoid a future attack.
At Podiatry Center of New Jersey, Dr. Russell Samofal, Dr. Dolan Chowdhury, Dr. Chris A. Obiarinze, Dr. Eric Freiler, Dr. Owen Morris, Dr. Farah Lakhram, Dr. Meltem Ates, Dr. Zakiyyah Waters, Dr. Ashley Kim, Dr. Usman Akram, Dr. Olufunke Buraimoh and Dr. Joseph Schmidl treat a variety of conditions such as sports injuries, diabetic foot problems, and pediatric foot conditions, toe deformities, arthritis, nail fungus, arch problems, and heel pain. Equipped with advanced technologies and dedicated staff, our 11 conveniently located offices provides individualized high-quality care for patients all across Essex, Hudson, Middlesex, Ocean, Passaic, and Union Counties. For all your foot and ankle problems, contact our Wayne, NJ office at (973) 925-4111 for an appointment.