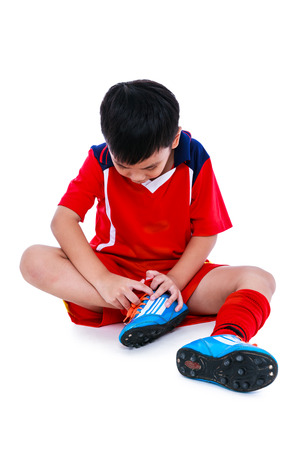 As children participate in sports at younger and younger ages, and with the increase in intensive training and competitions, a pronounced spike in visits to the podiatrist's office for foot and ankle injuries in children has been documented.
The following suggestions will help to avoid many of these injuries and doctor visits:
Proper footwear—Properly selected and sized footwear is essential to avoiding injuries. The proper arch support is very important, and you should also check regularly to make sure the footwear still fits. A space of at least a half an inch from the longest toe to the edge of the shoe is optimal. An excellent method for avoiding fungal nail infections is to make sure children switch out their footwear every other day to allow drying time. The drying process kills harmful bacteria and fungi that can cause infections.
Proper training—Use the proper technique to avoid putting unnecessary stress and strain on your muscles and feet. Complete attention to form and positioning should be taught at the beginning of any new sporting endeavor.
Proper warm up—Always stretch calf muscles, legs, feet, ankles and toes before you begin to play or train to avoid injuries. Aerobic exercise including jogging and running in place are recommended during warm ups. Proper warming up is one of the most effective methods available for preventing sports injuries.
Don't overdo it—The development of growth plates in children continues into the teen years, so taking it easy on growing bones is essential to treating or preventing injury. Many kids these days are concentrating all their time on a single sport and are suffering more repetitive stress injuries as a result. One way to avoid this is to have your child participate in a variety of sports throughout the year up until their teen years because, by that time, the growth plates have formed completely and stress injuries are less likely to occur.
If your child is experiencing pain and discomfort related to sports activities, seeing your podiatrist is essential. At Podiatry Center of New Jersey, Dr. Russell Samofal treats a variety of conditions including sports injuries, diabetic foot problems, pediatric foot conditions, toe deformities, arthritis, nail fungus, arch problems and heel pain. Equipped with advanced technologies and a dedicated staff, Podiatry Center of New Jersey provides individualized high quality care for patients all across Morris, Passaic, Bergen and Essex counties. For all your foot and ankle problems, contact our Wayne office at (973) 925-4111 for an appointment.