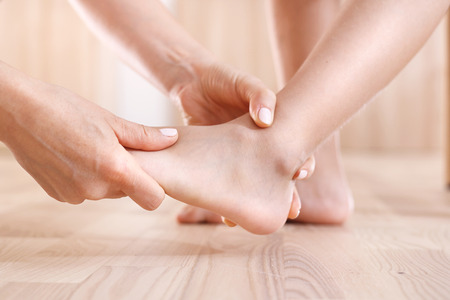 Your foot and ankle are made up of a multitude of bones, tendons, ligaments and other tissues which makes pain in the ankle one of the symptoms most frequently addressed by podiatrists. Even though you may not have a direct ankle injury, you can experience radiating pain and discomfort from injuries and diseases that occur in other parts of the foot.
Some common causes of ankle pain include the following:
Sprain or strain
Bursitis
RA(rheumatoid arthritis)
The usual initial treatment of foot and ankle pain consists of the RICE method:
Rest—It is very important to take the weight off of the ankle.
Ice—Apply an ice pack several times a day for 15-20 minutes.
Compression—Wrap the ankle with a compression bandage to help reduce swelling.
Elevation—Raising your foot above the level of your heart also reduces swelling.
Pain medications such as ibuprofen and Tylenol can be taken to reduce pain and inflammation. If the pain and swelling in your ankle doesn't begin to subside after several days, you may have a more problematic injury that requires further evaluation and treatment from your podiatrist.
If you are experiencing pain and discomfort with your ankle, make an appointment with your foot doctor to determine the precise cause. At Podiatry Center of New Jersey, Dr. Russell Samofal treats a variety of conditions including sports injuries, diabetic foot problems, pediatric foot conditions, toe deformities, arthritis, nail fungus, arch problems and heel pain. Equipped with advanced technologies and a dedicated staff, Podiatry Center of New Jersey provides individualized high-quality care for patients all across Morris, Passaic, Bergen and Essex counties. For all your foot and ankle problems, contact our Wayne office at (973) 925-4111 for an appointment.