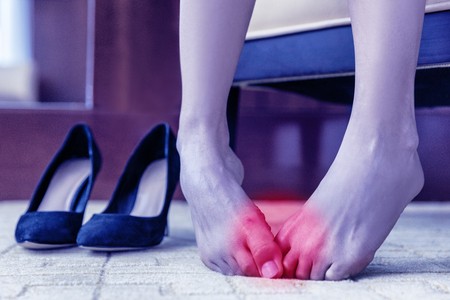 The bunion toe deformity is one that tends to develop slowly and they often don't cause pain or discomfort in the beginning. As the big toe bends into the other toes unchecked, a variety of conditions can soon follow. See your foot doctor at the first signs of big toe movement to get started on treatment and help prevent these complications.
Some of the conditions that can be caused or exacerbated by bunions include the following:
Painful blisters—The severely bent big toe often rubs on the insides of your shoes causing rubbing, redness, swelling, and blistering.
Toe deformities—Folks who develop bunions are also more likely to suffer from other toe deformities like hammertoes and overlapping toe issues as well.
Corns and calluses—Corns often grown on top of hammertoes and thick calluses can form on or near the bunion bump.
Ingrown toenails—The pressure from your toes being forced together can cause painful ingrown toenails to start.
Fungal toenail infections—Developing a fungal toenail infection is a distinct possibility of having an ingrown toenail, so by treating bunions and avoiding ingrown toenails you can also prevent toenail fungus!
The earlier you get help with your bunions from your foot expert, the less likely you will suffer from complications. At Podiatry Center of New Jersey, Dr. Russell Samofal, Dr. Dolan Chowdhury, Dr. Jaclyn Ramirez, Dr. Chris A. Obiarinze, Dr. Eric Freiler, Dr. Owen Morris, Dr. Farah Lakhram, Dr. Meltem Ates, Dr. Zakiyyah Waters, Dr. Ashley Kim, and Dr. Riddhi Shah treat a variety of conditions such as sports injuries, diabetic foot problems, pediatric foot conditions, toe deformities, arthritis, nail fungus, arch problems, and heel pain. Equipped with advanced technologies and dedicated staff, our 11 conveniently located offices provide individualized high-quality care for patients all across Essex, Hudson, Middlesex, Ocean, Passaic, and Union Counties. For all your foot and ankle problems, contact our Wayne, NJ office at (973) 925-4111 for an appointment.