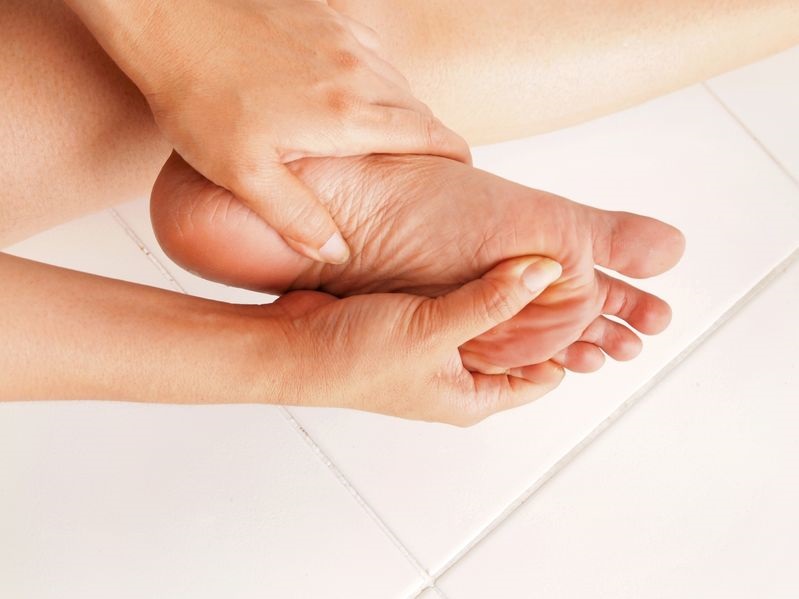 Tarsal tunnel syndrome affects the foot and ankle in a similar way that the more common carpal tunnel syndrome affects the wrist and hand. There's a nerve called the tibial nerve located in the tarsal tunnel area.  When this nerve is pinched or otherwise injured, it can cause pain, numbness, and tingling in the affected foot. Untreated flat feet often lead to tarsal tunnel problems.
A physical exam, nerve conduction studies, and imaging studies may need to be performed to trace the specific cause.
3 possible causes of tarsal tunnel syndrome include:
Untreated flat feet—People with arch problems like flat feet are more susceptible to developing tarsal tunnel compression problems and the resultant nerve pinching and numbness.
Foot or ankle injury—An injury like an ankle sprain can compress the tarsal tunnel area and damage the nerves.
 3 treatments for tarsal tunnel syndrome include the following:
Over-the-counter pain relievers such as acetaminophen or ibuprofen will help reduce inflammation and pain and should be taken in moderation.
Specially designed braces, metatarsal lifts, and other types of orthotic inserts are used to move stress and pressure away from the affected nerves.
In more severe cases, a procedure to relieve the pressure on the nerves may be required.
If you suspect that you have tarsal tunnel trouble, see your podiatrist for the right diagnosis and treatment. At Podiatry Center of New Jersey, Dr. Russell Samofal, Dr. Dolan Chowdhury, Dr. Jaclyn Ramirez, Dr. Chris A. Obiarinze, Dr. Eric Freiler, Dr. Owen Morris, Dr. Farah Lakhram, Dr. Meltem Ates, Dr. Zakiyyah Waters, Dr. Ashley Kim, and Dr. Riddhi Shah treat a variety of conditions such as sports injuries, diabetic foot problems, pediatric foot conditions, toe deformities, arthritis, nail fungus, arch problems, and heel pain. Equipped with advanced technologies and dedicated staff, our 11 conveniently located offices provide individualized high-quality care for patients all across Essex, Hudson, Middlesex, Ocean, Passaic, and Union Counties. For all your foot and ankle problems, contact our Wayne, NJ office at (973) 925-4111 for an appointment.