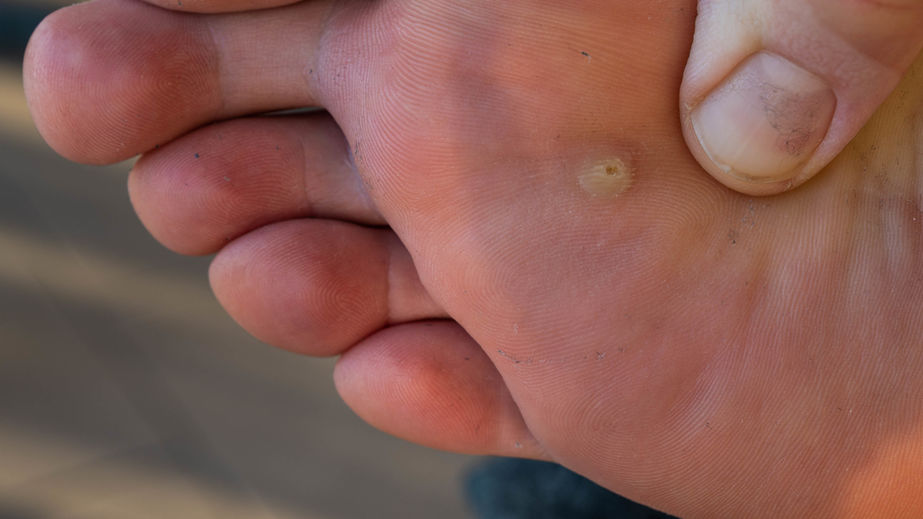 Plantar warts form in the plantar fascia, the thick layers of skin on the bottom of the foot, where they are hidden from view. The only signs are a small bump and pain when walking. They often occur in the heel or ball area where stress is the highest. They can be hard to identify and they can also mimic cancerous lesions, so be sure to see your foot doctor for a proper evaluation.
3 great treatment methods for painful plantar warts include the following:
Freezing the wart—Liquid nitrogen cryotherapy is implemented to break the wart off in larger chunks. This method can be combined with acid treatment for quick and complete wart removal.
Topical and internal medication—The human papillomavirus that causes warts can be attacked with topical and oral medications. They may have certain side effects, so check with your doctor.
Acid treatment—Extra strength salicylic acid is carefully applied to the wart to peel it away a bit at a time. There are home treatment kits available over-the-counter, but incomplete removal often occurs and the wart grows back so be sure to see your foot doctor.
Protect your feet from contact with microbes that cause warts by wearing sandals or shower shoes in public locker rooms and showers.
If you are experiencing foot pain and discomfort from plantar warts, see your podiatrist. At Podiatry Center of New Jersey, Dr. Russell Samofal, Dr. Dolan Chowdhury, Dr. Jaclyn Ramirez, Dr. Chris A. Obiarinze, Dr. Eric Freiler, Dr. Owen Morris, Dr. Farah Lakhram, Dr. Meltem Ates, Dr. Zakiyyah Waters, Dr. Ashley Kim and Dr. Riddhi Shah treat a variety of conditions such as sports injuries, diabetic foot problems, pediatric foot conditions, toe deformities, arthritis, nail fungus, arch problems, and heel pain. Equipped with advanced technologies and dedicated staff, our 11 conveniently located offices provide individualized high-quality care for patients all across Essex, Hudson, Middlesex, Ocean, Passaic, and Union Counties. For all your foot and ankle problems, contact our Wayne, NJ office at (973) 925-4111 for an appointment.