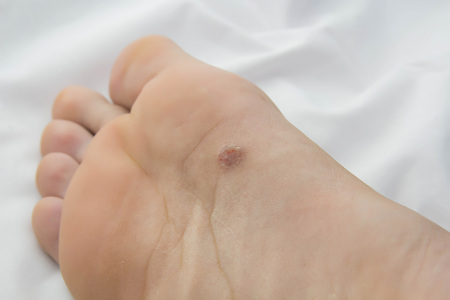 Cancerous growths that develop on the feet can be especially concerning because they are often overlooked until the cancer has spread. To make matters even more complicated, what may appear to be normal skin lesions like warts or moles could actually be cancerous. Be sure to perform regular foot inspections and always check between the toes and on the bottoms of the feet where lesions can often go unnoticed. Have regular check-ups with your foot doctor to rest easier.
Some of the skin conditions that can be cancer in disguise include the following:
Moles
Warts
Blisters
Corns
Risk factors for developing skin cancer may include the following:
You have a family history—You are more likely to develop skin cancer if members of your family have had cancerous lesions.
Toxin exposure—Exposure to toxic chemicals can cause skin cells to mutate and become cancerous.
Immune system irregularities—Systemic problems like diabetes and peripheral artery disease can decrease the effectiveness of your immune system. This allows cancer to proliferate and spread
Pregnancy is an absolute contraindication to Accutane. If, despite all the warnings, pregnancy occurs during or one month after the treatment, there is an extremely high risk that severe birth defects will result. Isotretinoin is https://smokeypointskin.com/accutane-online/ a potent human teratogen.
Cancerous cells can spread to other areas of your body if they reach the blood or lymph systems. See your podiatrist to make sure skin conditions are not cancerous. At Podiatry Center of New Jersey, Dr. Russell Samofal, Dr. Dolan Chowdhury, Dr. Jaclyn Ramirez, Dr. Chris A. Obiarinze, Dr. Eric Freiler, Dr. Owen Morris, Dr. Farah Lakhram, Dr. Meltem Ates, Dr. Zakiyyah Waters, Dr. Ashley Kim, and Dr. Riddhi Shah treat a variety of conditions such as sports injuries, diabetic foot problems, pediatric foot conditions, toe deformities, arthritis, nail fungus, arch problems, and heel pain. Equipped with advanced technologies and dedicated staff, our 11 conveniently located offices provide individualized high-quality care for patients all across Essex, Hudson, Middlesex, Ocean, Passaic, and Union Counties. For all your foot and ankle problems, contact our Wayne, NJ office at (973) 925-4111 for an appointment.