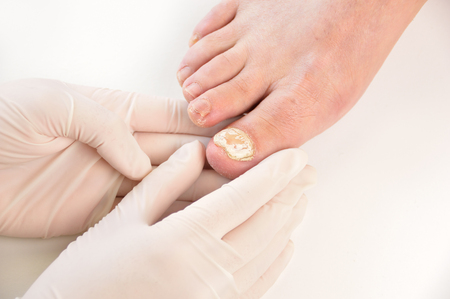 If you develop an advanced, smelly, and brittle fungal toenail infection it can be very difficult to eradicate on your own. Over-the-counter medications available don't often work that well and the infection returns. You need to see your foot doctor to completely eradicate an entrenched infection. Avoiding exposure to the fungus in the first place will prevent these infections.
Some treatments for fungal toenails include:
Medications—Antifungal medications can be taken both orally and applied directly to the infection.
Laser treatment—This treatment is used to evaporate fungal spores and can be very effective at eliminating fungi and will not damage healthy skin and nails.
Toenail removal—For advanced infections, it may be necessary to remove the entire toenail to directly attack the infection. A new, healthy nail will grow to replace it.
To avoid getting nail fungus in the first place try these tips:
Keep your feet clean and dry—Carefully dry your feet after bathing, being extra vigilant to dry between your toes where infections often begin. Switch out shoes to allow them to dry between uses.
Protect your feet from contact with microbes—Wear protective shower shoes or sandals in public pools, showers, and locker areas.
Use antimicrobial products—Use medicated sprays, powders, and lotions in your shoes and directly on your feet to kill microbes and prevent spreading.
If you are experiencing a fungal infection on your feet or toenails, be sure to make an appointment with your foot doctor for the right care. At Podiatry Center of New Jersey, Dr. Russell Samofal, Dr. Dolan Chowdhury, Dr. Jaclyn Ramirez, Dr. Chris A. Obiarinze, Dr. Eric Freiler, Dr. Owen Morris, Dr. Farah Lakhram, Dr. Meltem Ates, Dr. Zakiyyah Waters, Dr. Ashley Kim, and Dr. Riddhi Shah treat a variety of conditions such as sports injuries, diabetic foot problems, pediatric foot conditions, toe deformities, arthritis, nail fungus, arch problems, and heel pain. Equipped with advanced technologies and dedicated staff, our 11 conveniently located offices provide individualized, high-quality care for patients all across Essex, Hudson, Middlesex, Ocean, Passaic, and Union Counties. For all your foot and ankle problems, contact our Wayne, NJ office at (973) 925-4111 for an appointment.