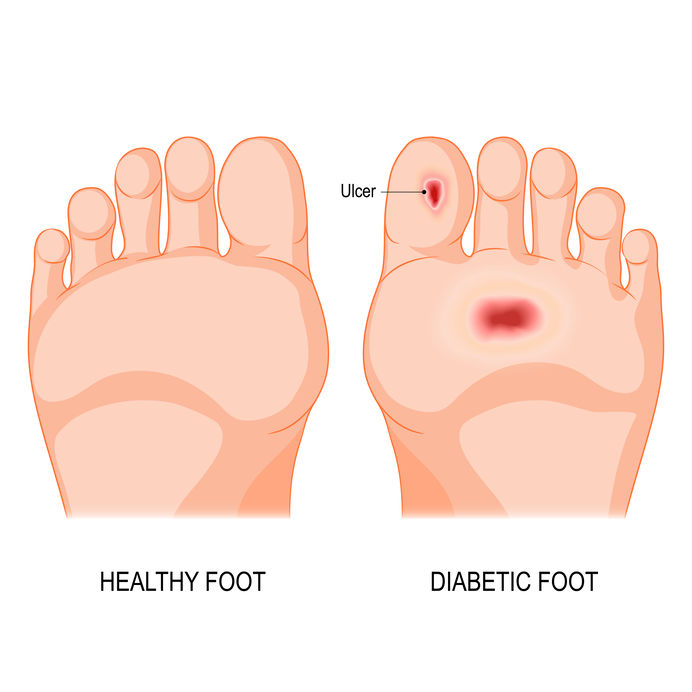 If you have recently been diagnosed with diabetes, you probably have a lot to deal with: new medications, modifications to your diet, lifestyle changes, and more. Our podiatrists are aware that it can all seem overwhelming yet want to take this opportunity to encourage you to add just one more thing to the list of ways in which you commit to managing your diabetes – regular visits with your podiatrist. It is essential that anyone with this whole-body illness is seen by an experienced foot doctor at least once a year for a thorough examination, diagnosis of any existing or potential issues that can affect foot health, and effective care.
Diabetics: Know the Facts
Did you know that every 20 seconds in America, a limb is lost to complications of diabetes? It is typically the result of long-term nerve damage, known medically as neuropathy, in the feet and toes. This nerve damage is often signified by tingling or numbness. Later, the numbness makes it hard to notice small nicks and cuts, which can become infected and develop into deep diabetic ulcers that are hard to heal. If the situation is bad enough, hospitalization, amputation, or even death can occur.
An experienced podiatrist like the doctors at Podiatry Center of New Jersey, has years of experience working with people with diabetes. They are experts at assessing the risk or damage that diabetes is causing your feet, then working with patients to develop an individualized treatment plan. Your podiatrist will help you determine a daily plan for foot care that you can easily implement at home.
At Podiatry Center of New Jersey, you will see our team of doctors treats various conditions such as diabetic foot problems, sports injuries, and pediatric foot conditions, toe deformities, arthritis, nail fungus, and heel pain. Equipped with the most advanced technologies and dedicated staff, our 11 conveniently located offices provide individualized high-quality care for patients across Essex, Hudson, Middlesex, Ocean, Passaic, and Union Counties. Contact our Wayne, NJ office at (973) 925-4111 for an appointment for all your foot and ankle problems.