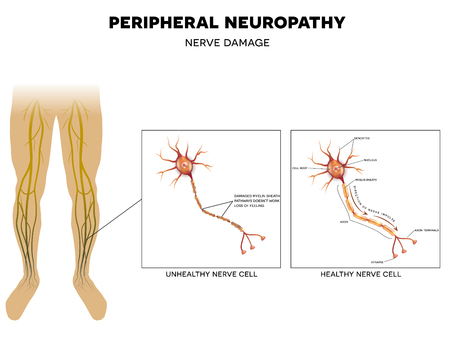 Neuropathy is another term for nerve damage. The primary cause of neuropathy in your feet is diabetes. At Podiatry Center of New Jersey, we want our patients to be aware of the threat that neuropathy can pose to the health of your feet and your entire body.
Poor circulation is another condition associated with diabetes. It is what's behind the decreased ability of foot wounds and ulcers to heal in a timely manner. This in turn can lead to dangerous infections and even amputation. Neuropathy can result in loss of sensation in your feet, making it difficult to detect and subsequently treat cuts, puncture wounds, ingrown toenails, rashes and other problems that can lead to an open wound. For diabetic patients with neuropathy, it's important to take steps to protect your feet.
Do's and Don'ts to Help Your Feet
Do: keep your feet covered, even when you are at home. Wearing shoes or slippers with a sturdy tread will greatly decrease your risk of stepping on a sharp object and injuring your foot.
Do: wear shoes made of soft flexible materials with roomy toe boxes to prevent blisters and pressure on any part of your foot.
Don't: go barefoot in public places. Fungal infections are spread by direct contact. Always use shower shoes or flip flops at pools, gyms and exercise studios.
Don't: expose feet to direct heat or hot water. Neuropathy can make it difficult to assess the true temperature.
Do: keep toenails trimmed straight across and not too short. Never file with rounded edges that may encourage nails to grow down and into the surrounding skin.
Don't: attempt to remove corns, warts or calluses at home. Chemical products can burn the skin and using sharp instruments most often leads to injury.
Do: inspect your feet daily. Look for any redness, bruising, cuts, blisters, rashes, swelling or other concerning signs that may indicate a developing problem. If you notice anything abnormal, make an appointment with our podiatrists to get it evaluated as soon as possible.
At Podiatry Center of New Jersey, Dr. Russell Samofal, Dr. Dolan Chowdhury, Dr. Chris A. Obiarinze, Dr. Eric Freiler, Dr. Owen Morris, Dr. Farah Lakhram, Dr. Meltem Ates, Dr. Zakiyyah Waters, Dr. Ashley Kim, Dr. Usman Akram, Dr. Olufunke Buraimoh and Dr. Joseph Schmidl treat a variety of conditions such as sports injuries, diabetic foot problems, and pediatric foot conditions, toe deformities, arthritis, nail fungus, arch problems, and heel pain. Equipped with advanced technologies and dedicated staff, our 11 conveniently located offices provides individualized high-quality care for patients all across Essex, Hudson, Middlesex, Ocean, Passaic, and Union Counties. For all your foot and ankle problems, contact our Wayne, NJ office at (973) 925-4111 for an appointment.