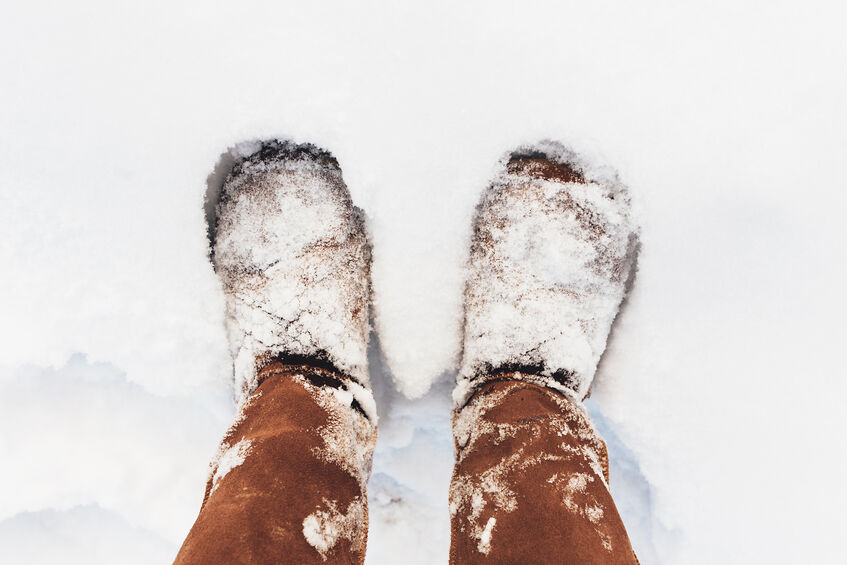 At Podiatry Center of New Jersey, we believe good podiatric health is a priority year-round and each season brings its own unique challenges. With the temperatures dropping it's time to focus on winter foot health issues.
5 Ways to Take Good Care of Your Feet This Season
Moisturize, moisturize, moisturize! When the heat goes on skin gets dry. Dry skin on your feet can be itchy and uncomfortable. It can lead to painful cracks in the skin which can become infected if left untreated. This is particularly concerning if you have diabetes. Apply a rich, emollient lotion or cream at night before going to bed and put on a pair of socks to help it absorb better.
Watch for slippery surfaces. Drops in temperature can happen quickly. What looked like just wet pavement on your way to work may turn icy by the time you're heading out for holiday shopping. Always choose the best cleared and sanded paths. Keep driveways and walkways around your home free of snow and slush and treated to prevent ice from forming. Insider tip to preventing ankle sprains: keep a small, sealed plastic bag of cat litter in your winter jacket pocket and sprinkle ahead of you on a surface you suspect it's slippery to give extra traction.
Don't allow feet to stay in sweaty shoes. Running errands in and out of over-heated stores, riding public transportation or driving to and from work can all lead to feet sitting in socks and shoes moist with perspiration. Trap them in dark, closed-in shoes with little air circulation and you've got the perfect recipe for athlete's foot or toenail fungus. Dust feet with powder before putting your socks on and keep a spare pair handy to switch into if feet start to feel damp.
Wear the right shoes for each activity. Don't attempt a long day of bargain hunting in your fashion boots. Choose comfortable shoes with a good tread and adequate arch support for busy days. Limit time in party heels to festive events only—wear practical shoes to get to the party and change into your heels once you arrive.
Listen to your feet. It's a busy time of the year. If your feet hurt, take a break and put them up. Spread out tasks that require you to be on your feet for long periods of time. If pain persists in feet or ankles, make an appointment with our podiatrists to get it evaluated and treated promptly.
At Podiatry Center of New Jersey, Dr. Russell Samofal, Dr. Dolan Chowdhury, Dr. Chris A. Obiarinze, Dr. Eric Freiler, Dr. Owen Morris, Dr. Farah Lakhram, Dr. Meltem Ates, Dr. Zakiyyah Waters, Dr. Ashley Kim, Dr. Usman Akram, Dr. Olufunke Buraimoh and Dr. Joseph Schmidl treat a variety of conditions such as sports injuries, diabetic foot problems, and pediatric foot conditions, toe deformities, arthritis, nail fungus, arch problems, and heel pain. Equipped with advanced technologies and dedicated staff, our 11 conveniently located offices provides individualized high-quality care for patients all across Essex, Hudson, Middlesex, Ocean, Passaic, and Union Counties. For all your foot and ankle problems, contact our Wayne, NJ office at (973) 925-4111 for an appointment.