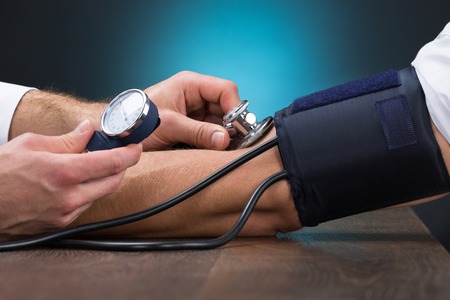 At Podiatry Center of New Jersey, we know that hearts abound this month but it's not all for Valentine's Day. Each February we celebrate American Heart Month. Your heart and feet are intimately connected. Healthy feet enable you to live an active life—a key component in good heart health. Your heart keeps the blood pumping to your lower extremities allowing them to function properly and heal from wounds, injuries, and infections. That's why our podiatrists are concerned about your heart health.
Hypertension and Your Feet
One factor that raises your risk for heart disease is high blood pressure (or hypertension). Patients with hypertension can also develop peripheral arterial disease (PAD) which can have serious ramifications for your legs and feet. Patients with PAD have plaque buildup in their veins and arteries. This can create poor circulation in your feet. Although high blood pressure often has few or no symptoms, decreased circulation, which can be linked to hypertension may exhibit the following signs in your feet and legs:
Hair loss
Change of skin color
Temperature change in your skin
Sores or wounds that don't seem to be healing
Cramping in your legs and feet, especially when you are exercising
Take Steps to Prevent High Blood Pressure
If you believe you are seeing signs of reduced circulation in your legs and feet, it's important that you bring them up with our podiatrists. The foot doctor will be able to help check blood pressure and make recommendations if he or she believes that it is being impeded.
There are also several lifestyle choices you can make to prevent or lower elevated blood pressure:
Maintain a healthy weight
Be physically active
Eat a diet rich in fruits in vegetables, lean proteins, and whole grains and low in saturated fats, sugars, and processed foods
Don't smoke
Limit alcohol intake
Get an adequate amount of sleep
Your podiatrist is a partner in your overall health. For more information on conditions that affect your feet and what to do to prevent them, contact us today.
At Podiatry Center of New Jersey, Dr. Russell Samofal, Dr. Dolan Chowdhury, Dr. Chris A. Obiarinze, Dr. Eric Freiler, Dr. Owen Morris, Dr. Farah Lakhram, Dr. Meltem Ates, Dr. Zakiyyah Waters, Dr. Ashley Kim, Dr. Usman Akram, Dr. Olufunke Buraimoh and Dr. Joseph Schmidl treat a variety of conditions such as sports injuries, diabetic foot problems, and pediatric foot conditions, toe deformities, arthritis, nail fungus, arch problems, and heel pain. Equipped with advanced technologies and dedicated staff, our 11 conveniently located offices provides individualized high-quality care for patients all across Essex, Hudson, Middlesex, Ocean, Passaic, and Union Counties. For all your foot and ankle problems, contact our Wayne, NJ office at (973) 925-4111 for an appointment.