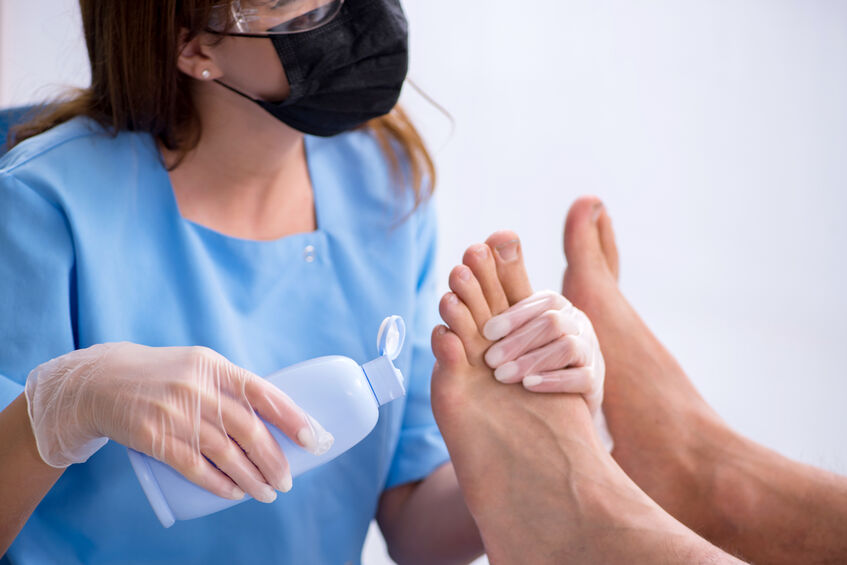 At Podiatry Center of New Jersey, foot infections such as athlete's foot, toenail fungus, and warts are among the more common problems we see in our patients. Someone who is diagnosed with a fungal foot infection is frequently surprised to discover that this is the source of the discomfort they are experiencing or the unsightly appearance of the skin or nails on their feet. This is often because they held an incorrect belief about how these infections develop. Below are some myths about foot infections and how to avoid them.
Fungal infections are not very common during the winter months. Many patients mistakenly believe that summer is the time that it's necessary to be concerned about contracting a fungal infection. However, the winter months provide ample opportunity for coming in direct contact with infection-causing fungi and viruses. Many people move their workouts indoors to gyms where locker rooms and communal showers provide the perfect pick-up spot for warts or other infections.
You can't get an infection if your feet are never bare. Fungi thrive in warm, damp, dark places—like the insides of your shoes. In the winter months when you wear heavy socks your feet tend to sweat more and help foster a fungi-growing environment in your shoes. Keep feet dry. Change your socks in the middle of the day if necessary. Use talcum powder or even a roll-on antiperspirant to help reduce foot perspiration and spray the insides of your shoes with an anti-fungal spray. Rotate your footwear and avoid wearing one pair for multiple days in a row.
You can't catch a fungal foot infection from someone else. Fungal infections are highly contagious. If your child has athlete's foot, for example, and they like to snuggle in your bed in the morning you may soon find yourself with itchy feet. You can also contract a foot infection by sharing socks, shoes, nail files or clippers with another person.
If you suspect you may have a fungal foot infection, contact us as soon as possible. These conditions will not go away without the appropriate treatment.
At Podiatry Center of New Jersey, Dr. Russell Samofal, Dr. Dolan Chowdhury, Dr. Chris A. Obiarinze, Dr. Eric Freiler, Dr. Owen Morris, Dr. Farah Lakhram, Dr. Meltem Ates, Dr. Zakiyyah Waters, Dr. Ashley Kim, Dr. Usman Akram, Dr. Olufunke Buraimoh and Dr. Joseph Schmidl treat a variety of conditions such as sports injuries, diabetic foot problems, and pediatric foot conditions, toe deformities, arthritis, nail fungus, arch problems, and heel pain. Equipped with advanced technologies and dedicated staff, our 11 conveniently located offices provides individualized high-quality care for patients all across Essex, Hudson, Middlesex, Ocean, Passaic, and Union Counties. For all your foot and ankle problems, contact our Wayne, NJ office at (973) 925-4111 for an appointment.