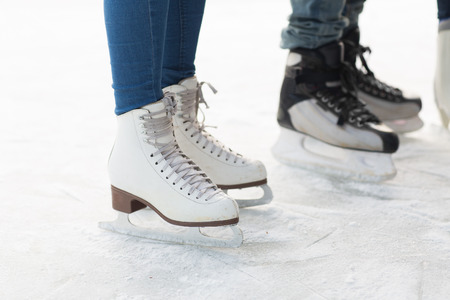 If you love to ice skate, ski, sled, and snowboard or just enjoy strolling through a snowy landscape then the recent bout of frigid temps and snowstorms is probably making you very happy! At Podiatry Center of New Jersey, we want our patients to enjoy winter sports without harming their feet or ankles.
Dos and Don'ts for Winter Fun
Don't: go from couch to slope—it's a quick route to injury! Winter sports are vigorous and require stamina as well as particular skills. Choose an activity and a level of participation that's right for your fitness and skill level. Do some warmup exercises before you begin and always use good form and good sense!
Do: choose the right footwear—winter sports have their own unique footwear to do them safely. Just as you wouldn't hike in flip flops, you shouldn't snowboard in regular boots. The stiffness of ski and snow boots helps prevent ankle sprains and other injuries like fractures. For walking, look for boots or sturdy shoes with a gripping tread to prevent slips.
Don't: settle for a poor fit—if you don't own your own equipment and are renting, take your time when trying on the boots or skates you've been given. A few extra minutes trying another size can save you hours of misery in a pair that doesn't fit correctly. Blisters, shin splints and Achilles tendon problems can all be the consequence of shoes or boots that don't fit. If you have any chronic problems like Haglund's deformity or a bunion, be sure to pad the area for added protection.
Do: invest in good socks. Your sock choice can be a determining factor in how long you are able to stay out and enjoy your winter sport. Avoid 100% cotton as it holds the moisture which can lead to sweaty feet and blisters. Look for socks made of synthetic materials know to remove the moisture away from your skin. Add a second pair if you need extra warmth. Keeping feet dry will also help prevent fungal infections.
Don't: ignore podiatric pain. If you experience sharp or ongoing pain while participating in a winter sport or after, make an appointment as soon as possible to get your discomfort evaluated and treated.
At Podiatry Center of New Jersey, Dr. Russell Samofal, Dr. Dolan Chowdhury, Dr. Chris A. Obiarinze, Dr. Eric Freiler, Dr. Owen Morris, Dr. Farah Lakhram, Dr. Meltem Ates, Dr. Zakiyyah Waters, Dr. Ashley Kim, Dr. Usman Akram, Dr. Olufunke Buraimoh and Dr. Joseph Schmidl treat a variety of conditions such as sports injuries, diabetic foot problems, and pediatric foot conditions, toe deformities, arthritis, nail fungus, arch problems, and heel pain. Equipped with advanced technologies and dedicated staff, our 11 conveniently located offices provides individualized high-quality care for patients all across Essex, Hudson, Middlesex, Ocean, Passaic, and Union Counties. For all your foot and ankle problems, contact our Wayne, NJ office at (973) 925-4111 for an appointment.