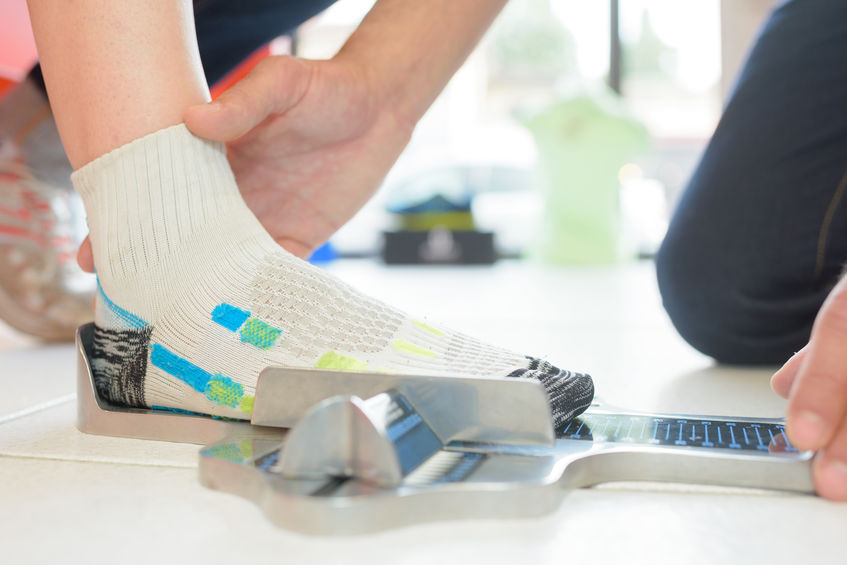 At Podiatry Center of New Jersey, we have an important question for our patients: Are you wearing the right size shoe? Believe it or not, as many as 80-90% of people are not! Improperly fitting shoes are one of the primary causes of foot problems. Many common conditions such as flat feet, bunions, ingrown toenails and ball of foot pain can be relieved or even prevented by wearing shoes that are the correct size for your feet. Perhaps that's why January 23rd is designated "Measure Your Feet Day."
Can Foot Size Change?
Yes! It's actually normal for feet to get a bit bigger as you age. Ligaments and tendons stretch due to normal wear and tear, causing your feet to spread. Other conditions such as pregnancy or obesity can also result in your feet needing a larger shoe size.
Get the Right Fit
You should always shop for shoes in person to get the best fit. Start by having your foot measured by a footwear professional. The measurement of both of your feet should be taken while you are standing up straight. Some other tips to help ensure your shoes will fit include:
Shop late in the day–Your feet swell as the day goes on, so they'll be at their largest at the end of the day. This will help you avoid buying a pair that feels okay when you first put them on but leave your feet hurting by the end of the day.
Wear the appropriate socks–Try on shoes with the same type and thickness of socks that you will typically use with the shoe.
Don't forget your orthotics–If our podiatrists have prescribed a custom orthotic device to help with a foot problem, bring it with you when shoe shopping and make sure it fits in the shoes you are considering.
Try on both shoes–If one of your feet measured larger than the other (not uncommon) make sure the footwear you're trying on feels comfortable on the bigger foot.
Take a walk–Take your time walking around the inside of the store to make sure that both shoes fit well. There should be no rubbing or pinching of toes, back of the heel or any other part of the shoe. Remember, the idea of a breaking in period for new shoes is a myth. They should fit comfortably from the onset.
At Podiatry Center of New Jersey, Dr. Russell Samofal, Dr. Dolan Chowdhury, Dr. Chris A. Obiarinze, Dr. Eric Freiler, Dr. Owen Morris, Dr. Farah Lakhram, Dr. Meltem Ates, Dr. Zakiyyah Waters, Dr. Ashley Kim, Dr. Usman Akram, Dr. Olufunke Buraimoh and Dr. Joseph Schmidl treat a variety of conditions such as sports injuries, diabetic foot problems, and pediatric foot conditions, toe deformities, arthritis, nail fungus, arch problems, and heel pain. Equipped with advanced technologies and dedicated staff, our 11 conveniently located offices provides individualized high-quality care for patients all across Essex, Hudson, Middlesex, Ocean, Passaic, and Union Counties. For all your foot and ankle problems, contact our Wayne, NJ office at (973) 925-4111 for an appointment.