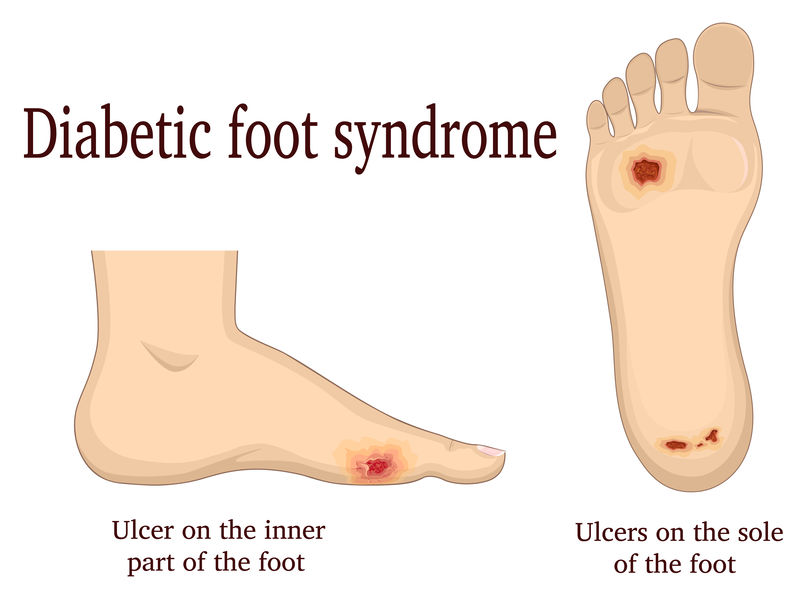 Over 25 million Americans are affected by diabetes and at Podiatry Center of New Jersey, we know that this disease can have a significant impact on the health of your feet. Diabetic patients have high blood sugar levels that, if they remain uncontrolled, can lead to difficulties with circulation, immunity, and nerve damage. This leaves feet vulnerable to a host of problems including:
Ulcers and wounds that do not heal in a timely manner
Fungal infections
Dry, cracked skin,
Infections
Corns and calluses
Diabetics can find themselves in a dangerous cycle: neuropathy may make it difficult to perceive an injury, poor circulation can make it slower to heal and depressed immune function results in difficulty fighting off infection. In the worst-case scenario, this cycle can lead to gangrene and amputation.
Take Action
Fortunately, there are many ways you can reduce your risk of podiatric complications from diabetes. Below are eight tips for protecting your feet.
Examine your feet daily—this is your number one weapon in detecting and heading off troubles before they start. Look for cuts, rashes, bruising, swelling, changes in skin color, and nail condition. Report anything suspicious to one of our podiatrists
Wash feet every day in warm (not hot) soapy water–dry completely starting between the toes—the place most susceptible to athlete's foot.
Choose shoes carefully—look for styles made of soft materials with roomy toe boxes. Do not wear the same pair every day and check your toes, heels, and the sides of your feet for any signs of rubbing or irritation from the shoes.
Avoid socks with seams at the toes or tight elastic around the calves—also, make sure socks stay dry. If your feet tend to sweat profusely, have extra socks with you and change as needed.
Don't go barefoot—even at home–wearing shoes helps protect feet from cuts and puncture wounds or from stubbing a toe. In public places like community pools and gyms wear flip flops or shower shoes. This will help you avoid fungal infections which are spread by direct contact.
Don't play foot doctor—let the podiatrist handle warts, calluses, corns, and ingrown toenails. Over-the-counter products containing harsh chemicals, tapes or plasters can cause damage to the skin which can lead to an ulcer or wound.
Apply a rich moisturizer to feet daily—some nerve damage can result in reduced moisture secretion in the skin.
Take care of toenails—keep nails trimmed and filed straight across. If this is difficult, ask the podiatrist for help.
If you have diabetes, regular podiatric checkups should be a part of your care plan.
At Podiatry Center of New Jersey, Dr. Russell Samofal, Dr. Dolan Chowdhury, Dr. Chris A. Obiarinze, Dr. Eric Freiler, Dr. Owen Morris, Dr. Farah Lakhram, Dr. Meltem Ates, Dr. Zakiyyah Waters, Dr. Ashley Kim, Dr. Usman Akram, Dr. Olufunke Buraimoh and Dr. Joseph Schmidl treat a variety of conditions such as sports injuries, diabetic foot problems, and pediatric foot conditions, toe deformities, arthritis, nail fungus, arch problems, and heel pain. Equipped with advanced technologies and dedicated staff, our 11 conveniently located offices provides individualized high-quality care for patients all across Essex, Hudson, Middlesex, Ocean, Passaic, and Union Counties. For all your foot and ankle problems, contact our Wayne, NJ office at (973) 925-4111 for an appointment.