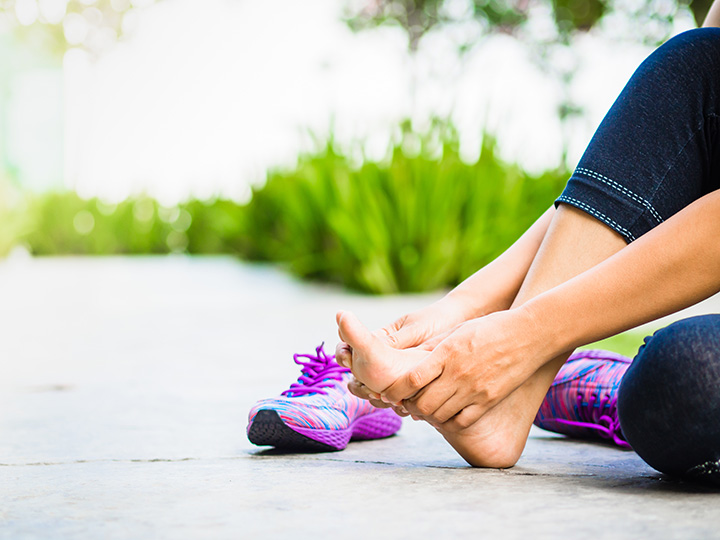 At Podiatry Center of New Jersey, we find that many of our patients have never even heard of their Lisfranc joint until it sustains an injury. Below is some information about this type of injury and how it is treated.
The Lisfranc joint is found in the center of your foot where the long metatarsal bones that go to your toes join with the tarsal bones in the arch of the foot. The Lisfranc joint is supported and kept in alignment by a strong band of tissue called the Lisfranc ligament.
A Lisfranc injury can be in the form of a fracture or dislocation of the joint or a sprain of the ligament or a combination of any of these. Although a Lisfranc injury can happen from something as simple as twisting your ankle or missing a step, they are often the result of a car accident, sports injury, fall, dropping a heavy object on the foot, or another traumatic event.
Diagnosis and Treatment
How do you know if you have a Lisfranc injury? The first sign, especially if you have recently suffered an injury in a sport or accident would be pain throughout the midsection of your foot, particularly when standing or if pressure is applied to the area. Other potential symptoms of a Lisfranc injury may include:
Bruising or blistering on the arch of your foot and/or bruising on the top middle of the foot
Inability to bear weight on the affected foot
Swelling
Your foot appears abnormally wide
To accurately diagnose a Lisfranc injury, our podiatrists will need to examine your foot and ankle and get detailed information about any recent injuries. X-rays or other imaging studies will likely be ordered, and the foot doctor may also physically examine your foot under anesthesia to get a clearer idea of potential fractures or weakening of the joint.
If a Lisfranc injury is found the treatment will be determined by the specific type of injury and its severity. The podiatrist will most likely recommend immobilization, ice, and elevation. Physical therapy may be prescribed after the swelling and pain have subsided to re-strengthen the ligament and the joint. In some cases, a surgical repair may be necessary.
At Podiatry Center of New Jersey, Dr. Russell Samofal, Dr. Dolan Chowdhury, Dr. Chris A. Obiarinze, Dr. Eric Freiler, Dr. Owen Morris, Dr. Farah Lakhram, Dr. Meltem Ates, Dr. Zakiyyah Waters, Dr. Ashley Kim, Dr. Usman Akram, Dr. Olufunke Buraimoh and Dr. Joseph Schmidl treat a variety of conditions such as sports injuries, diabetic foot problems, and pediatric foot conditions, toe deformities, arthritis, nail fungus, arch problems, and heel pain. Equipped with advanced technologies and dedicated staff, our 11 conveniently located offices provides individualized high-quality care for patients all across Essex, Hudson, Middlesex, Ocean, Passaic, and Union Counties. For all your foot and ankle problems, contact our Wayne, NJ office at (973) 925-4111 for an appointment.