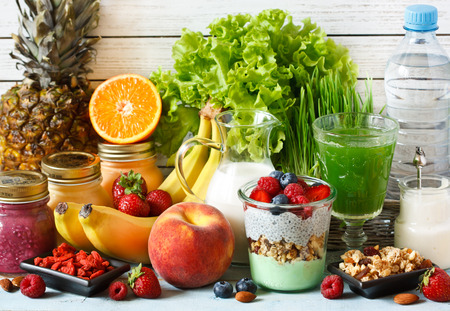 March is National Nutrition Month. At Podiatry Center of New Jersey, we bet that when you hear nutrition the last thing you think about is your feet. Most of us associate diet and nutrition with our weight and possibly the link to certain medical conditions such as heart disease. However, there are several direct and indirect ways that the foods you eat impact your podiatric health.
Strain on Your Feet—So weight does play a factor in foot health. There's more than a one-to-one correlation between the pounds you gain and lose and the strain on your feet. For every pound you gain, you put an additional 3-5 pounds of pressure on your knees and feet. There are several podiatric conditions such as flat feet and heel pain which are caused or made worse by carrying excess weight. Watching calories and portion sizes as well as the types of food you eat to attain and maintain an appropriate weight means less lower extremity pain.
Inflammation—Many foot and ankle disorders have inflammation as a primary symptom and source of discomfort, including plantar fasciitis and arthritis. Generally, foods high in refined sugars and those that are fried or processed increase the body's inflammatory response. Other foods are known to fight inflammation. These include berries, foods rich in Omega 3's and some nuts and seeds.
Osteoporosis—This disease, which results in weak bones that are more likely to break, can be slowed or prevented with adequate calcium and vitamin D intake. In addition to dairy products, dark green leafy vegetables and oily fish like sardines, nuts and breads and cereals that are fortified with calcium. Your feet contain nearly 25% of all the bones in your body.
Diabetes—Affecting over 25 million Americans, this disease can have devastating effects on your feet, causing wounds and ulcers that are difficult to heal and can lead to amputation. Controlling blood sugar is key to managing diabetes and your diet is a big part of that. If you have diabetes, your physician can advise you on a nutrition plan to keep blood sugar where it should be.
If you have questions about nutrition and the health of your feet, don't hesitate to contact us and speak to our podiatrists.
At Podiatry Center of New Jersey, Dr. Russell Samofal, Dr. Dolan Chowdhury, Dr. Chris A. Obiarinze, Dr. Eric Freiler, Dr. Owen Morris, Dr. Farah Lakhram, Dr. Meltem Ates, Dr. Zakiyyah Waters, Dr. Ashley Kim, Dr. Usman Akram, Dr. Olufunke Buraimoh and Dr. Joseph Schmidl treat a variety of conditions such as sports injuries, diabetic foot problems, and pediatric foot conditions, toe deformities, arthritis, nail fungus, arch problems, and heel pain. Equipped with advanced technologies and dedicated staff, our 11 conveniently located offices provides individualized high-quality care for patients all across Essex, Hudson, Middlesex, Ocean, Passaic, and Union Counties. For all your foot and ankle problems, contact our Wayne, NJ office at (973) 925-4111 for an appointment.