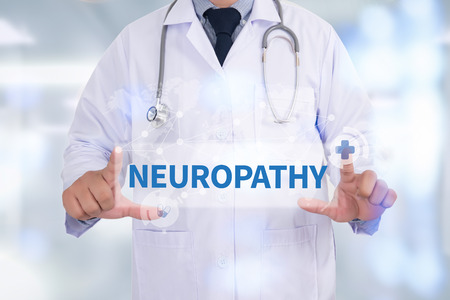 At Podiatry Center of New Jersey, one condition that we find puzzles our patients when they first experience symptoms is peripheral neuropathy. The signs of this disorder can vary and may include a tingling or burning sensation in the feet or a numbness and decrease in sensation. More troubling is also the potential for sharp, shooting pains. The level of discomfort can range from mildly annoying to excruciatingly painful and disabling. If left untreated, peripheral neuropathy can lead to other problems such as falls due to lack of balance, wounds, corns, and undetected infections. There are over 100 known causes of peripheral neuropathy and for some patients no specific cause is found. Below are three of the more common sources of this foot problem.
Diabetes—this is the most common cause and the source of about 30% of all peripheral neuropathies. Peripheral neuropathy associated with diabetes can be particularly dangerous. Lack of feeling in the feet makes it more difficult to detect a rash, wound, cut or other injury in a timely manner. Poor circulation—another condition often associated with diabetes—means that wounds are slow to heal. The combination of peripheral neuropathy and poor circulation can lead to infections and even amputations.
Morton's Neuroma—a neuroma is a benign growth of nerve tissue or nerve tumors that occurs when the nerves become irritated or inflamed from friction with the surrounding tissue. Footwear that doesn't fit properly and structural abnormalities in the foot are typically behind a neuroma. Pain, swelling, and tingling usually occurs in the ball of the foot, typically between the third and fourth toes, and intensifies when walking.
Tarsal Tunnel Syndrome—the tarsal tunnel runs along the inside of the ankle and houses arteries, veins, tendons, and nerves, including the posterior tibial nerve. The tarsal tunnel is made of thick ligaments and is supposed to protect those structures inside, but sometimes the posterior tibial nerve can get compressed from an injury, poorly fitting shoes, or a biomechanical problem. This causes neuropathy.
The treatments for peripheral neuropathy are varied and will depend on the source of the condition. If you are experiencing symptoms of nerve problems, contact us promptly for an evaluation.
At Podiatry Center of New Jersey, Dr. Russell Samofal, Dr. Dolan Chowdhury, Dr. Chris A. Obiarinze, Dr. Eric Freiler, Dr. Owen Morris, Dr. Farah Lakhram, Dr. Meltem Ates, Dr. Zakiyyah Waters, Dr. Ashley Kim, Dr. Usman Akram, Dr. Olufunke Buraimoh and Dr. Joseph Schmidl treat a variety of conditions such as sports injuries, diabetic foot problems, and pediatric foot conditions, toe deformities, arthritis, nail fungus, arch problems, and heel pain. Equipped with advanced technologies and dedicated staff, our 11 conveniently located offices provides individualized high-quality care for patients across Essex, Hudson, Middlesex, Ocean, Passaic, and Union Counties. For all your foot and ankle problems, contact our Wayne, NJ office at (973) 925-4111 for an appointment.