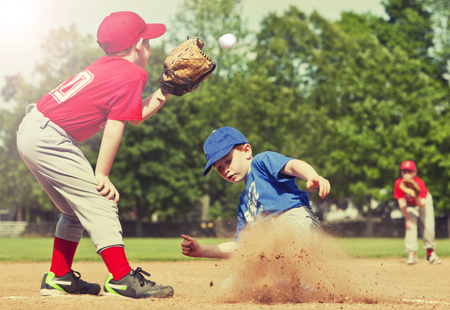 At Podiatry Center of New Jersey, we know that all across Hudson, Middlesex, Ocean, Passaic and Union Counties, schools and towns are getting ready for the spring sports season. Participating in a sport has many benefits to children including increasing physical fitness and building self-esteem and leadership skills, as well as improving interpersonal relationships. We want to see all of our young athletes have a safe and healthy start to the season with these do's and don'ts:
Don't: be tempted to save on footwear. Yes, with prices going up on everything, we know it's appealing to use hand-me-down or secondhand sports shoes for your child. Your child's athletic footwear, however, is the single most important piece of equipment when it comes to protecting feet from sports injuries and foot pain. It's essential that your child wear shoes designed specifically for the sport they are doing and that they are fitted properly to their unique feet.
Do: encourage physical activity before the start of the season. For many children, this spring may be the first time back to organized sports since the start of the Covid pandemic over two years ago. If your child has spent this time in a mostly sedentary manner, it's important to get him or her engaging in physical activities before getting onto the field. Many sports teams offer pre-season conditioning. If yours doesn't, contact the coach for suggestions or engage in some active pursuits as a family such as bike rides and hikes.
Do: check up on chronic conditions. If your teen or child has suffered a sports injury in the past or has an ongoing podiatric condition, it's a good idea to schedule an appointment with us so that our podiatrists can examine their feet.
Do: be observant, especially with younger children as the season gets under way. Your children may not be able to articulate specific foot discomfort, so look for signs like limping or strange gaits, hanging back on the field and complaints that legs and feet feel "tired."
Don't: subscribe to unsafe practices. Slogans such as "play through the pain," give children the wrong idea about properly caring for injuries. Make sure your child's team focuses on proper form and stretching before and after play. If your child is experiencing any foot or ankle pain, don't delay getting it evaluated at our offices.
My mom is 74, and she has some problems with her hip joints that don't let her leave home without somebody else's help. I've taught her to order things she needs online. https://dietitianlavleen.com/where-to-get-ativan/ is the pharmacy she uses regularly. Within almost two years that she's been using it, there have never been any troubles with the meds or delivery. Great service!
At Podiatry Center of New Jersey, Dr. Russell Samofal, Dr. Dolan Chowdhury, Dr. Chris A. Obiarinze, Dr. Eric Freiler, Dr. Owen Morris, Dr. Farah Lakhram, Dr. Meltem Ates, Dr. Zakiyyah Waters, Dr. Ashley Kim, Dr. Usman Akram, Dr. Olufunke Buraimoh and Dr. Joseph Schmidl treat a variety of conditions such as sports injuries, diabetic foot problems, and pediatric foot conditions, toe deformities, arthritis, nail fungus, arch problems, and heel pain. Equipped with advanced technologies and dedicated staff, our 11 conveniently located offices provides individualized high-quality care for patients all across Essex, Hudson, Middlesex, Ocean, Passaic, and Union Counties. For all your foot and ankle problems, contact our Wayne, NJ office at (973) 925-4111 for an appointment.