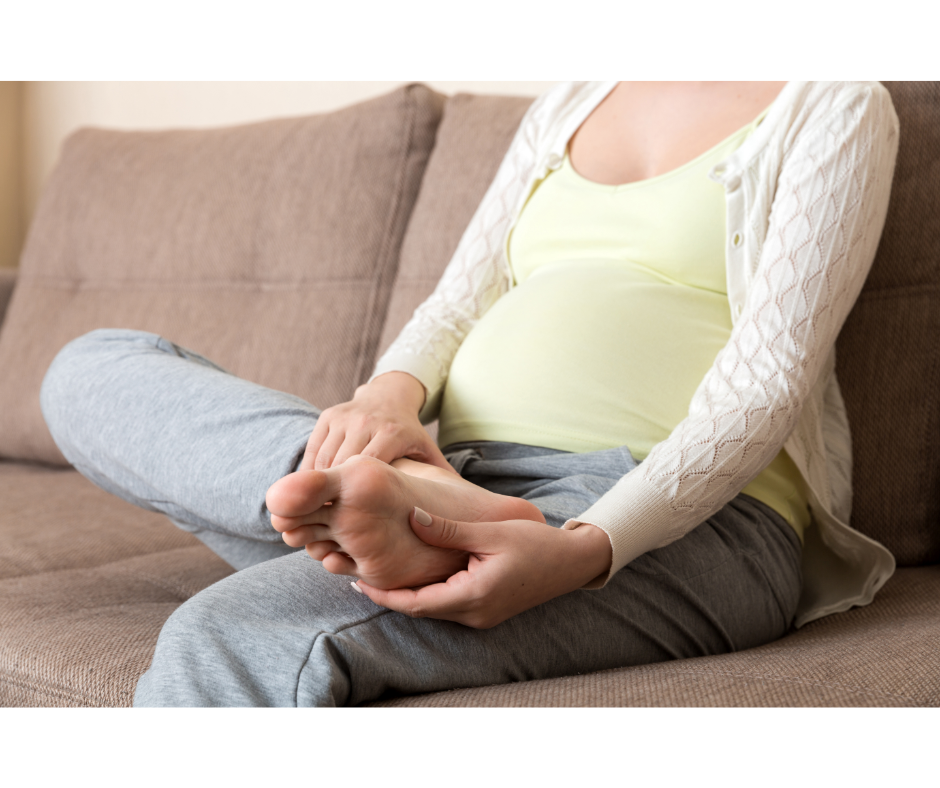 At the Podiatry Center of New Jersey, we know that having a baby is a joyous event, but we also know it's not all cute onesies and baby booties. Like the rest of your body, your feet are undergoing changes that may lead to uncomfortable symptoms. Some common podiatric problems during pregnancy include:
Swelling
Leg cramps
Toenail changes
Varicose Veins
Ways to Cope with foot issues during pregnancy.
Fortunately, you can take some simple steps to relieve and help prevent foot problems associated with pregnancy:
Buy bigger shoes—swelling, hormones, and excess weight can all cause your feet to get larger. The shoes you wore pre-pregnancy may now feel tight and hurt your feet. Buying a couple of pairs of shoes that fit your feet now—which may mean going up a half size or getting a wider width—can make the rest of your pregnancy more comfortable.
Drink more water—staying hydrated has multiple benefits. Although it may seem counterintuitive, drinking more water helps reduce swelling (edema) by helping your body rid itself of excess fluids. Dehydration is a contributing factor to painful leg cramps. So, drink up!
Keep moving—regular physical activity will help reduce swelling, varicose veins, and leg cramps. It's also likely to make you feel better overall and help you maintain a healthy weight gain during pregnancy.
Put your feet up—resting is just as important as being active. Taking breaks throughout the day and elevating your feet will go a long way to preventing serious swelling and will also relieve foot and heel pain that is common, especially in the later trimesters.
When in doubt, contact your physician–your doctors—both your podiatrist and your obstetrician–are here to help. If you are concerned that any of the symptoms you are experiencing don't seem normal, don't hesitate to contact us to get them evaluated.
At the Podiatry Center of New Jersey, our doctors treat various conditions such as sports injuries, diabetic foot problems, pediatric foot conditions, toe deformities, arthritis, nail fungus, arch problems, and heel pain. Equipped with advanced technologies and dedicated staff, our 16 conveniently located offices provide individualized high-quality care for patients across Essex, Hudson, Middlesex, Ocean, Passaic, and Union Counties. For all your foot and ankle problems, contact our Wayne, NJ office at (973) 925-4111 for an appointment.