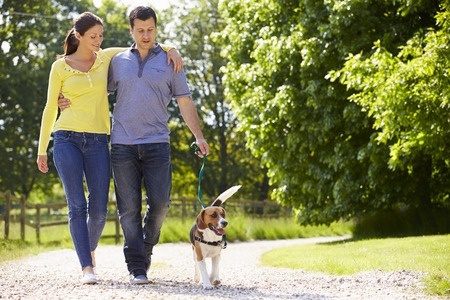 Love your dog? Want to become healthier? Well then, this week is the perfect opportunity to establish a healthy lifestyle for you and your pooch. Autumn is officially here, which means temperatures are ideal for enjoying the outdoors, so take advantage of these benefits of walking!
Walking with your dog just 20 minutes at a time a few times a week can help:
Increase energy
Lower blood pressure
Increase endorphins
Reduce weight
Curb negative moods and behaviors
Strengthen bones and muscles
Help prevent and manage diabetes, heart disease, arthritis, and circulatory issues for both you and your dog!
To prevent foot and ankle injuries, don't forget to:
Warm up and stretch before and cool down after
Invest in a good pair of walking shoes
Use custom orthotics
Start off slow and ease your way up to more frequent runs
Stay hydrated
It's always easier when you have a friend to exercise with, so grab a leash and make your first steps to a healthier you and a happier dog! There are plenty of dog events coming up in New Jersey, so keep it fun for both of you.
If you develop any discomfort or pain, always consult with a board-certified podiatrist like Dr. Russell Samofal of Podiatry Center of New Jersey who can help diagnose and treat your foot and ankle issues. Common conditions that Dr. Samofal treats are plantar fasciitis, bunions, Achilles tendinitis, and ankle sprains, as well as diabetic foot problems and skin conditions. With advanced technologies and a dedicated staff, Podiatry Center of New Jersey is here to help you get back on your feet and enjoy the autumn season! Please contact our office in Wayne, NJ at (973) 925-4111 to schedule an appointment today! We are conveniently located to serve Morris, Passaic, Bergen, and Essex counties.