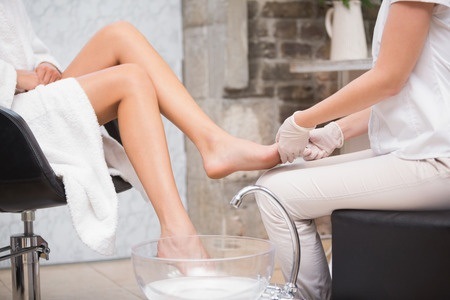 It's not uncommon for people to fantasize about sinking into a relaxing chair while someone pampers their feet. Who wouldn't? Getting a pedicure is the ultimate proof that you are taking time to take care of yourself by beautifying your feet. For people with diabetes who often have foot complications and higher chances of developing infections, getting a pedicure may seem like a risky endeavor. However, if you follow these safety tips and pick the right salon, you can achieve a safe and enjoyable experience.
Avoid appointments when necessary – If you have ulcers, blisters or open wounds, do not schedule an appointment. Bacteria can easily enter and cause infections, so wait until they have healed.
Plan which salon you will go to – Take the time to ask questions and inspect the salon for safety and cleaning practices.
Be picky about foot baths – As inviting as bubbly warm foot baths are, they are also a common source of lurking bacteria so be sure to ask what procedures are in place to ensure cleanliness between clients. Individual bowls are often a safer bet than ones that have piping.
Ask about tool cleaning – Make sure the salon practices rigorous cleaning and disinfecting techniques in order to avoid contamination from other customers.
Make a morning appointment – The less clients that use the salon before you, the better your chances are of keeping infections away.
Inform your pedicurist – Make sure your pedicurist knows that you have diabetes so that they can avoid practices that may injure your skin, such as cutting cuticles or trimming nails too short.
If you have any questions or concerns about your diabetic foot health, consulting with an experienced board-certified podiatrist can ease your mind. Dr. Russell Samofal of Podiatry Center of New Jersey in Wayne, NJ specializes in diabetes-related issues and has the expertise to address many foot and ankle issues. Diabetes management, sports injuries, reconstructive foot and ankle surgery, and heel pain are just some of the issues he helps patients with. Contact us or call (973) 925-4111 to schedule an appointment today!