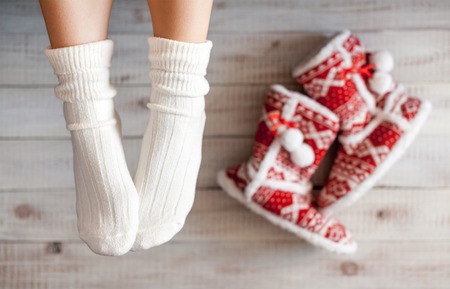 People usually think of the summer as a time for foot infections like athlete's foot or nail fungus, but foot care can often be overlooked in the winter as feet are hidden away in footwear. However, the layering of socks in winter boots can often lead to sweaty, moist feet, which is an ideal environment for fungus to thrive.
Follow these tips to keep your feet away from infections!
Wear the right size shoes – Tight shoes can lead to excessive sweating, and loose footwear can make you more susceptible to slipping and falling on icy surfaces. Have a professional at a specialty shoe store assist you if you are unsure of your correct size.
Wick away moisture – Wearing socks made of acrylic or wool can help wick away moisture from your feet, rather than materials like cotton that tend to absorb but retain the wetness.
Prevent dryness – Infections can often enter and spread through dry, cracked areas so moisturize feet regularly.
Avoid walking barefoot – If you use gyms, pools, and locker rooms during the winter, protect your feet from picking up infections in public places by wearing sandals.
Keep nails trimmed – Dirt and debris can get caught underneath nails, so keep them short and cut straight across.
Treat shoes – If you are pulling out a pair of shoes that were in a closet all year, fungus may be lurking there. There are anti-fungal sprays and powders that can help.
Change socks – Practice good hygiene by changing socks frequently and allowing feet to breathe.
If you suspect a fungal infection, see a foot care specialist for diagnosis and treatment. A board-certified podiatrist like Dr. Russell Samofal at Podiatry Center of New Jersey treats all types of foot and ankle issues and can provide an individualized treatment plan. From chronic heel pain, sports injuries, and diabetic foot problems to toe deformities that require reconstruction surgery, Dr. Samofal has the expertise and compassion to help patients regain their foot health. Please contact our Wayne, office by calling (973) 925-4111 and schedule an appointment today!