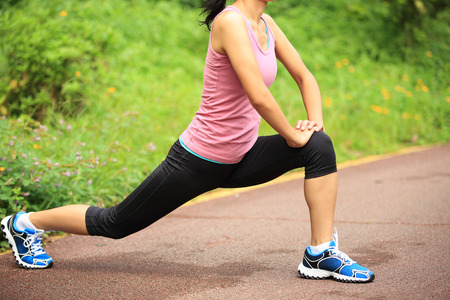 Are you thinking about starting up running, or are you an indoor runner ready to venture outside? Running as a beginner can seem daunting, but with these tips you can overcome the initial challenges of running outdoors and avoid injuries and unrealistic expectations!
Go slow – Whether you've been running on treadmills or running for the first time, the mistake many people make is to do too much. Allow yourself to walk briskly or go at a much slower running pace than usual.
Plan your run – Before you leave, pick a route and stick to it to avoid getting lost or overtired while you're getting used to the outdoors.
Dress appropriately – Although spring brings warmer temperatures, the wind can still be chilly so dress in layers and be visible.
Choose soft over pavement – Pounding your feet on a hard pavement can be tough on your feet, so choose a dirt trail for a softer landing. Plus, you can enjoy the pretty scenery!
Warm up and cool down – Like any exercise, you want to make sure your body is ready for a workout so take your time to stretch and get your heart going to avoid injuries.
Make it fun – Running for the first time outdoors can be nerve-wracking and cause many people to be self conscious, so ask a friend to join you to keep it light and fun! The more fun you have, the easier it will be to keep it up!
If you haven't been exercising over the winter, it is always a good idea to consult with a foot care specialist to assess your overall foot health. At Podiatry Center of New Jersey, our board-certified podiatrist can recommend footwear and help treat common foot and ankle conditions such as ankle injuries, Achilles tendinitis, shin splints, plantar fasciitis, and nail fungus. Dr. Russell Samofal treats patients with high quality individualized care. Contact us at (973) 925-4111 for an appointment!