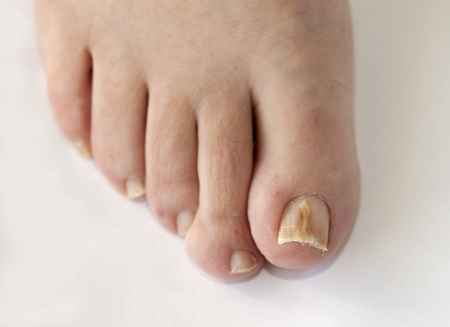 With summer weather in full swing, walking around barefoot or with sandals on is a great way to show off your beautiful feet. Unless of course you are cursed with fungal toenails, and infection that can result in thick, yellow, brittle and even stinky nails. The cause of this nail infection is actually a microscopic foe known as fungi. These tiny invaders thrive in warm, moist environments common to the average shoe, where athlete's foot reigns supreme. When fungi spread to your nails there are a variety of remedies you can try to keep the infection from getting worse, or to avoid getting the disease in the first place.
These include:
When cutting your nails, be sure to trim them straight across so the edge of the nail doesn't grow into the nail bed and cause an infection.
Wash your feet every day and dry them before putting on your socks and shoes.
Try to wear socks and shoes that are light and breathable. Wear fresh socks every day.
Don't walk barefoot in locker rooms, showers, pool, or other public areas.
Don't share nail clippers and other personal care devices with family members or random strangers to avoid the spread of infection.
Use anti-fungal sprays and creams on your feet and in your footwear.
Make sure your shoes have ample room for your toes to move.
Developing a case of nail fungus despite your best efforts to avoid it is the worst! Just keep in mind that you have a friend in your podiatrist when it comes to battling these pesky infections.
At Podiatry Center of New Jersey, Dr. Russell Samofal treats a variety of conditions such as sports injuries, diabetic foot problems, pediatric foot conditions, toe deformities, arthritis, nail fungus, arch problems and heel pain. Equipped with advanced technologies and a dedicated staff, Podiatry Center of New Jersey provides individualized high quality care for patients all across Morris, Passaic, Bergen and Essex counties. Contact our Wayne office at (973) 925-4111 for an appointment.