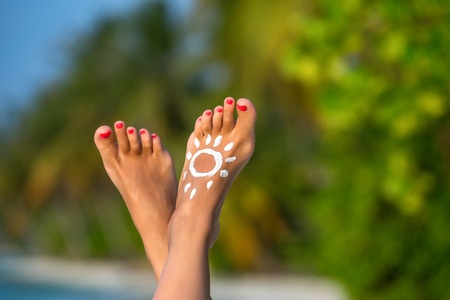 With summer vacations, adventures, and getaways in full swing keeping your feet protected from the heat and avoiding injuries can help make your summer a success.
Here is a reminder list of some fairly common sense ideas for keeping your feet healthy and happy throughout this summer season:
Choose supportive shoes—Try to avoid flimsy flip flops and opt for shoes and sandals with a contoured arch support that follows the natural geometry of your foot. Additionally, choose a deep heel cup that supports and cradles your heel bone to provide a stable foundation for every step you take. Favoring footwear with thicker soles will also act as a shock absorber and help prevent injuries from stepping on sharp objects.
Socks are important too!—One of the main causes of blisters on your feet is poorly fitting socks. Always try on footwear—especially athletic shoes and hiking boots—with socks that are the right size and thickness. A breathable liner sock is often recommended for use with hiking boots to help decrease rubbing and blistering.
Do foot exercises—Keeping the muscles, ligaments and tendons in your feet flexible and strong can help avoid injury. Try picking up marbles with your toes, rolling your arches over a tennis ball, and doing calf stretches to limber up the Achilles tendon.
Beat the heat!—Don't forget to put sunscreen on your feet when wearing sandals or going barefoot. Also, remember to drink plenty of fluids to help keep the skin on your feet hydrated and happy.
Even with your best efforts and attention, the fun activities of summer can often lead to injuries and other problems with your feet and ankles, so it's great to know that your foot specialist is here to help you get back on your feet!
At Podiatry Center of New Jersey, Dr. Russell Samofal treats a variety of conditions such as sports injuries, diabetic foot problems, pediatric foot conditions, toe deformities, arthritis, nail fungus, arch problems and heel pain. Equipped with advanced technologies and a dedicated staff, Podiatry Center of New Jersey provides individualized high quality care for patients all across Morris, Passaic, Bergen and Essex counties. Contact our Wayne office at (973) 925-4111 for an appointment.