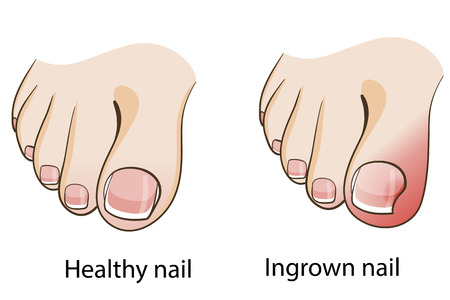 Ingrown toenails are a notoriously painful condition that occurs when the side of your toenail digs into the tender skin on the edge of your toe. Your toenails normally grow along the surface of your skin, but for a variety of reasons the edge of the nail can dig into the skin causing pain and swelling, and increasing the likelihood of developing an infection, especially for patients with diabetes.
While any nail can succumb to ingrowing, it mostly affects the big toe nail. Some of the factors that can lead to this often self-inflicted disorder include the following:
Cutting nails too short—This is the major cause of big toe ingrown toenail problems. It's very important to cut your nails straight across. Keep the edge of your nail up high so it can't get started growing under the skin next door. Once begun, a nail will continue to grow into your tissue causing pain and discomfort.
Poorly chosen footwear—Footwear that puts an inordinate amount of pressure on the toes can cause the nail to fold over and start growing inward. The need for proper footwear cannot be underestimated for the treatment of many foot conditions. Avoiding shoes that constrict the toes, such as high heeled shoes and pointy cowboy boots, can go a long way to preventing ingrown toenail issues.
Ingrown toenails may begin as small problems, but as the condition worsens the pain will intensify and you may be facing a serious fungal nail infection.
To avoid these complications, seek the assistance of your foot care professional. At Podiatry Center of New Jersey, Dr. Russell Samofal treats a variety of conditions such as sports injuries, diabetic foot problems, pediatric foot conditions, toe deformities, arthritis, nail fungus, arch problems and heel pain. Equipped with advanced technologies and a dedicated staff, Podiatry Center of New Jersey provides individualized high quality care for patients all across Morris, Passaic, Bergen and Essex counties. For all your foot and ankle problems, contact our Wayne office at (973) 925-4111 for an appointment.