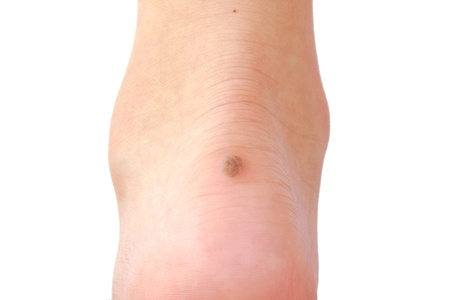 Blisters are small skin sacs that are filled with a white fluid called serum. They are the body's response to friction and they need to be treated promptly to decrease pain and prevent possible infection, especially in patients who have diabetes.
The rubbing that causes blistering is frequently from poorly fitted footwear. Foot abnormalities such as bunions, heel spurs, and hammertoes are more susceptible to developing blisters on them due to their tendency to rub against shoes that aren't properly fitted or cushioned.
Treatment for blisters includes the following methods:
Breaking the skin of a blister should be avoided to help prevent the spread of infection. A sterilized needle can be used to puncture the edge of the blister and drain the fluid by gently pressing with cotton balls and without causing a major break in the skin. Apply antibiotic ointment to the area and cover with a bandage. Treat the blister daily and replace the bandage to help promote proper healing and avoid infection. Padding and other shoe inserts can be used to isolate and insulate small blisters such as those that form on corns.
Preventing blisters:
Look for areas of your shoes that correspond to the blister locations and see if there is anything that could increase rubbing such as excess cloth or stitching. Keeping your feet dry will help to prevent blisters, so wear moisture wicking socks and wear thin, breathable socks when the weather's warm to help disperse heat.
Suppressive therapy with Valtrex reduces the risk of transmission of genital herpes. However, it can't cure herpes infection or prevent the risk of transmission. During the https://smokeypointskin.com/valtrex-online/ treatment with Valtrex, patients should be advised to practice safe sex.
If you are experiencing complications with blistering, your foot care specialist can help. At Podiatry Center of New Jersey, Dr. Russell Samofal treats a variety of conditions such as sports injuries, diabetic foot problems, pediatric foot conditions, toe deformities, arthritis, nail fungus, arch problems and heel pain. Equipped with advanced technologies and a dedicated staff, Podiatry Center of New Jersey provides individualized high quality care for patients all across Morris, Passaic, Bergen and Essex counties. For all your foot and ankle problems, contact our Wayne office at (973) 925-4111 for an appointment.