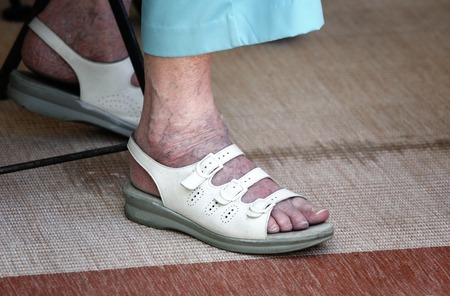 If you or a loved one is dealing with the complications of diabetes, then you know how important proper foot care is to your overall health and vitality.
Two of the complications of diabetes that have a direct impact on the health of your feet are peripheral neuropathy, and decreased blood circulation. Peripheral neuropathy results in a numbing sensation in the feet and poor blood flow from hardening of the arteries can greatly slow down the immune response and healing process. Therefore any small cut or scrape can rapidly advance into a full blown foot ulcer requiring immediate intervention or risk of amputation.
Follow these foot care tips to help protect your feet
Foot inspections – Daily foot inspections are essential to proper evaluation and catching any problems in time to avoid complications. Be on the lookout for any blisters, rashes, cuts, bruises, or puncture wounds. Check carefully between your toes, since this is an easily overlooked area that can easily become problematic. Look on the bottoms of your feet, with a mirror if necessary.
Avoid exposing your feet to damage – While it may be tempting to take a barefoot stroll on the beach, even a little scrape or cut from a seashell can create further problems down the beach if you are not careful with cleanliness and the rapid treatment of abrasions with antibiotics and band aids.
Good shoes – There's really no substitute for a good pair of really well fitted and supported shoes. Shoes for patients with diabetes have fabulous aspects like extra room for toe movement and the needed space for specially created orthotic devices that can provide increased cushioning, stabilization, and blister prevention.
At Podiatry Center of New Jersey, Dr. Russell Samofal treats a variety of conditions such as sports injuries, diabetic foot problems, pediatric foot conditions, toe deformities, arthritis, nail fungus, arch problems and heel pain. Equipped with advanced technologies and a dedicated staff, Podiatry Center of New Jersey provides individualized high quality care for patients all across Morris, Passaic, Bergen and Essex counties. For all your foot and ankle problems, contact our Wayne office at (973) 925-4111 for an appointment.