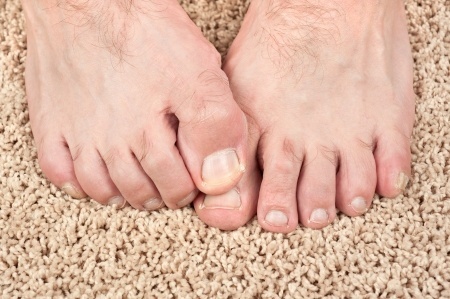 Having your toes bent in an unusual manner is a condition that often affects the four small toes of the foot, and can lead to pain, discomfort and additional problems. The toes look peculiar, and get their names from the shape they take.
When your toes are bent upward at the first joint, and downward at the next two joints, they are called claw toes, and since the condition usually affects all four toes at once, your foot resembles a claw. A mallet toe will have a bend at the toe tip, and a hammertoe bends downward at the middle joint, resembling a hammer.
A bent toe can rub against the inside of your shoes, or can rub against another toe, both of which can result in the formation of corns, calluses, and blisters.
If your toe is still reasonably flexible, you and your foot doctor may be able to straighten it out using some of the following treatments and flexibility exercises:
Properly fitted footwear—The most important thing is to first change your footwear to shoes with extra room in the toe box that accommodate pads and inserts and allow your toes some wiggle room.
Supports and inserts—Arch supports, orthotic shoe inserts, toe tubes, and moleskin pads can be utilized to keep the toes and the foot in the proper position, and to provide cushioning and insulation from rubbing. Taping, splints and toe caps may also be used to help achieve the correct positioning.
NSAID pain relievers—such as ibuprofen and naproxen may be used sparingly.
Exercises—including towel curls, will help to improve your toes strength and flexibility.
If you are experiencing pain and discomfort from toe deformities, seek the help of your foot care specialist. At Podiatry Center of New Jersey, Dr. Russell Samofal treats a variety of conditions such as sports injuries, diabetic foot problems, pediatric foot conditions, toe deformities, arthritis, nail fungus, arch problems and heel pain. Equipped with advanced technologies and a dedicated staff, Podiatry Center of New Jersey provides individualized high quality care for patients all across Morris, Passaic, Bergen and Essex counties. For all your foot and ankle problems, contact our Wayne office at (973) 925-4111 for an appointment.