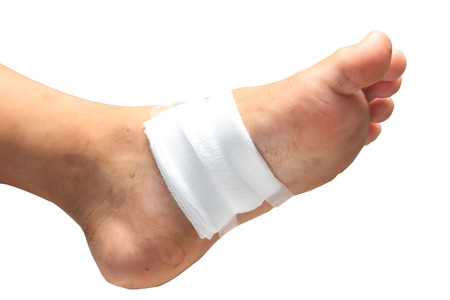 For patients who have diabetes, the need to be particularly observant when it comes to cuts, blisters, and scrapes on their feet should be taken very seriously. Two of the most common complications of diabetes include peripheral neuropathy and peripheral artery disease, each of which can contribute to the formation of a potentially deadly foot ulcer. These dangerous ulcers can require aggressive treatment including possible amputation of one or more toes, the entire foot, or even the lower leg.
Peripheral artery disease
This blood-related condition causes the arteries to build up blockages that decrease blood flow. This happens first in the extremities, greatly slowing the healing process for any cuts, scrapes, and other wounds on the feet and ankles. This slow healing response can allow bacteria to proliferate, potentially causing a severely infected wound that may go unnoticed for days.
Peripheral neuropathy
This type of nerve damage is often a result of diabetes, although there are many other causes. When the endings of the nerves become compromised, it often first causes a loss of feeling or numbness in the feet and hands, making it difficult to know if you have a cut, scrape, or puncture wound that is becoming infected. Something as seemingly minor as a blister can allow bacteria to enter the body and eventually infect the underlying tissue, causing a gangrenous sore.
Tips for patients who have diabetes
If you have diabetes, you already know that you need to keep your blood sugar under control and to take good care of your feet to avoid major complications. Additionally, check your feet daily for cuts, blisters, and other injuries. Wash your feet with gentle soap and water every day to help remove bacteria and sweat. Trim your toenails so they are not too short to prevent an ingrown toenail. For help with corns and calluses, always have any cutting done by your podiatrist to avoid wounds and infections.
If you suffer from diabetes, frequent visits to your podiatrist for inspections and treatment can help ensure you won't be sidetracked by a dangerous foot ulcer. At Podiatry Center of New Jersey, Dr. Russell Samofal treats a variety of conditions such as sports injuries, diabetic foot problems, pediatric foot conditions, toe deformities, arthritis, nail fungus, arch problems and heel pain. Equipped with advanced technologies and a dedicated staff, Podiatry Center of New Jersey provides individualized high quality care for patients all across Morris, Passaic, Bergen and Essex counties. For all your foot and ankle problems, contact our Wayne office at (973) 925-4111 for an appointment.