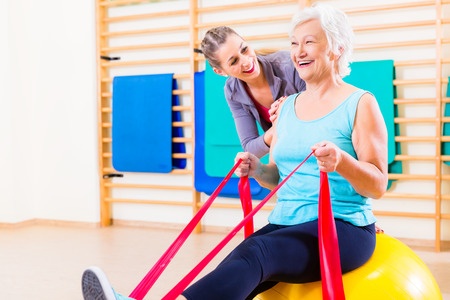 Physical therapy is often thought by many people to be most effective after surgery or during recovery from an accident. However, there are many ways that physical therapy protocols can be added to regular health and exercise regimens rather than just in severe situations. The correct use of stretching and flexibility exercises can mitigate and prevent a wide variety of ailments including high arches, osteoarthritis, claw and hammertoes, heel pain and plantar fasciitis.
Physical therapists use a wide selection of methods to treat their patients including stretching exercises, taping and bracing, electrical stimulation, ultrasound therapy, and extracorporeal shockwave therapy (which involves the use of high-frequency electrical currents to aid the healing process).
Some of the benefits of physical therapy include:
Increasing strength and mobility—Muscles, tendons, and ligaments can atrophy during the healing process, so it is vitally important to slowly incorporate physical therapy exercises to rebuild muscles and increase the strength and flexibility of tendons, ligaments, and other tissues. Increased strength also creates better stability that can prevent injuries from falls.
Avoiding surgery—Many foot and ankle conditions respond well to conservative physical therapy treatment, which completely avoids any need for surgery.
Reduced pain and discomfort —Reducing inflammation with the physical therapy methods described can greatly reduce or eliminate most of the pain and discomfort associated with many foot and ankle conditions.
If you are interested in implementing a preventive physical therapy program, be certain to consult with your foot care professional. At Podiatry Center of New Jersey, Dr. Russell Samofal treats a variety of conditions such as sports injuries, diabetic foot problems, pediatric foot conditions, toe deformities, arthritis, nail fungus, arch problems and heel pain. Equipped with advanced technologies and a dedicated staff, Podiatry Center of New Jersey provides individualized high quality care for patients all across Morris, Passaic, Bergen and Essex counties. For all your foot and ankle problems, contact our Wayne office at (973) 925-4111 for an appointment.