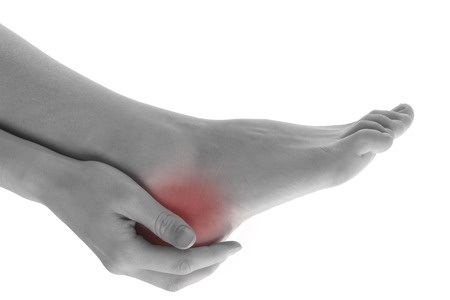 One of the earliest signs of plantar fasciitis is heel pain that is often most noticeable first thing in the morning. The extension of your foot upon getting out of bed after sleeping can stretch the ligament causing the telltale severe pain in the heel area. These symptoms may occur only occasionally at first; however, repeated stress to the plantar fascia can create small tears that can grow larger and greatly increase the pain and discomfort.
The Causes of Plantar Fasciitis
Wearing the wrong shoes—Shoes that lack proper arch support can cause overstretching leading to the condition.
Carrying extra weight—Excess weight increases the pressure to the plantar fascia.
Tightened calf muscles—Wearing high heeled shoes can cause the calf muscle to atrophy, and not stretching the muscles enough can cause them to become taught. Best to avoid wearing high heels altogether, considering all the other problems they can cause.
High arches or flat feet—These are often inherited conditions that can cause you to be more susceptible to developing plantar fasciitis.
Foot stress from working—People who spend a lot of time on their feet increase strain on the foot ligaments and tendons.
Treatment Options
Treatment of plantar fasciitis consists of conservative remedies including RICE (Rest, Ice, Compression, and Elevation), stretching of the calf muscles, and Achilles tendon exercises. Being sure to wear properly-fitted shoes with good arch support can help alleviate the condition. Physical therapy exercises and wearing a splint or rigid boot at night may also provide relief.
If but for Ambien from https://bes.org/ambien-online/, I don't know if I would still be alive. Insomnia got me into depression, and I saw no other way out than finish my life. How wrong I was! My friend told me about this medication, so I ordered it immediately. It helped me sleep again, and terrible thoughts had gone away. I'm so grateful for my life!
If you are experiencing the signs of plantar fasciitis, don't delay a visit with your podiatrist to avoid any unnecessary complications. At Podiatry Center of New Jersey, Dr. Russell Samofal treats a variety of conditions such as sports injuries, diabetic foot problems, pediatric foot conditions, toe deformities, arthritis, nail fungus, arch problems and heel pain. Equipped with advanced technologies and a dedicated staff, Podiatry Center of New Jersey provides individualized high-quality care for patients all across Morris, Passaic, Bergen and Essex counties. For all your foot and ankle problems, contact our Wayne office at (973) 925-4111 for an appointment.