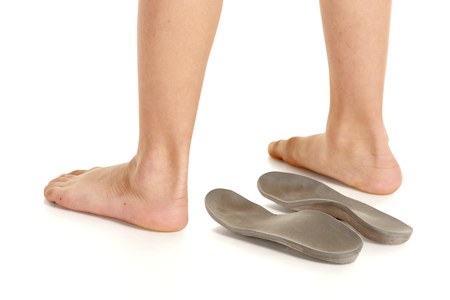 One of the most often overlooked aspects of foot health is prevention of foot and ankle problems from happening before they can worsen. The importance of regular foot inspections, proper shoe fitting, and the incorporation of strength and flexibility exercises into your daily routine cannot be overemphasized. A further method of ensuring the health of your feet and ankles is through the use of custom orthotic inserts. These inserts are often utilized to add more support and to treat a variety of foot and ankle problems by correcting imbalances with foot mechanics.
Here a few of the excellent benefits of orthotic inserts:
Relief of pain and discomfort—Increased cushioning will help relieve the pain of many conditions including calluses, corns, and arch problems.
Stabilization—Computer designed inserts that help with balance and ankle movement can be essential to preventing falls in the elderly and in those patients who have diabetes.
Eliminating the need for surgery—Using orthotics can eliminate the need for more invasive procedures like surgery.
Improper foot structure—Issues including bunions, plantar fasciitis, hammertoes, tendonitis, flat feet, and high arches can all be treated with orthotic inserts.
Issues with diabetes—In combination with specially-designed shoes, custom orthotic inserts can help prevent diabetic foot ulcers and other injuries that may lead to infection and amputation.
To get the maximum benefits from your orthotic inserts, seek the services of an experienced podiatrist for the best evaluation and treatment recommendations. At Podiatry Center of New Jersey, Dr. Russell Samofal treats a variety of conditions such as sports injuries, diabetic foot problems, pediatric foot conditions, toe deformities, arthritis, nail fungus, arch problems and heel pain. Equipped with advanced technologies and a dedicated staff, Podiatry Center of New Jersey provides individualized high-quality care for patients all across Morris, Passaic, Bergen and Essex counties. For all your foot and ankle problems, contact our Wayne office at (973) 925-4111 for an appointment.