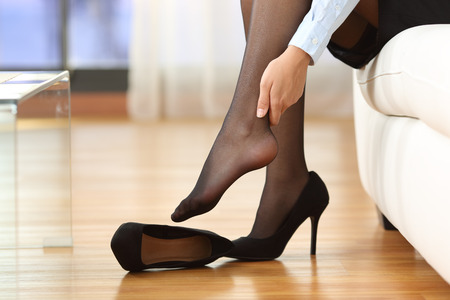 More and more women are realizing that wearing high heeled shoes isn't really worth the high fashion associated with them. Celebrities like Oprah have come out against them and many ladies are opting to wear them only on special occasions. Wearing high heeled shoes causes an enormous amount of excess pressure on the feet and toes. The abnormal walking style can have detrimental effects on your calves, knees, hips, and back.
Wearing high heels can cause a variety of injuries and problems including the following:
Neuroma—Wearing high heel shoes concentrates the already high pressure on the ball of the foot, causing the formation of painful nerve abnormalities like neuromas and contributing to an increase in sesamoiditis complications.
Hammertoes and bunions—Women who wear high heels frequently can attest to the fact that they have more problems with hammertoes and bunions.
Skin conditions—Painful corns have a tendency to grow on the tops of hammertoes, and the added pressure of the tight fitting shoes also increases blister formation.
Achilles tendon injury—The Achilles tendon can become physically shortened from wearing high heeled shoes over time. This can become a chronic and painful condition.
If you are experiencing problems caused by wearing high heeled shoes, it is important to see a foot specialist for the proper diagnosis and treatment. At Podiatry Center of New Jersey, Dr. Russell Samofal treats a variety of conditions such as sports injuries, diabetic foot problems, pediatric foot conditions, toe deformities, arthritis, nail fungus, arch problems and heel pain. Equipped with advanced technologies and a dedicated staff, Podiatry Center of New Jersey provides individualized high-quality care for patients all across Morris, Passaic, Bergen and Essex counties. For all your foot and ankle problems, contact our Wayne office at (973) 925-4111 for an appointment.