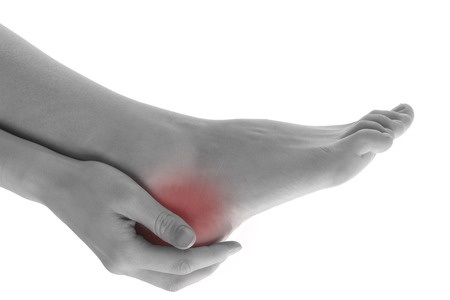 Heel spurs are small bony bumps or spikes that grow on the back of the heel bone. They are formed by an excessive buildup of calcium. The condition is caused by the stress and pressure on the tendons and ligaments of the feet and ankles. A heel spur is not always painful, but since it can stick out of the heel area it can create problems with how your footwear fits.
Some of the other contributing factors in the formation of heel spurs include the following:
Poorly fitting shoes and improper arch support—Correct arch support is essential to avoiding the tendon and ligament pressure that can cause heel spurs to grow. When getting new footwear, be certain to have your feet measured each time. Your feet change quite a bit over the course of a year. Properly-fitting shoes with the correct arch support will correct gait abnormalities that can increase heel pressure.
Aging and weight gain—As you get older and heavier, more pressure is put on the arch of the foot and protective fat layers decrease in the heel area, making heel spurs become more likely.
Treatment for heel spurs includes the following
Properly-fitted shoes with extra cushioning in the heel area
Physical therapy exercises to increase strength and relax the inflamed tissue
Cortisol injections
If you are experiencing heel pain and suspect that you have a heel spur, your foot doctor is here to help. At Podiatry Center of New Jersey, Dr. Russell Samofal treats a variety of conditions such as sports injuries, diabetic foot problems, pediatric foot conditions, toe deformities, arthritis, nail fungus, arch problems and heel pain. Equipped with advanced technologies and a dedicated staff, Podiatry Center of New Jersey provides individualized high-quality care for patients all across Morris, Passaic, Bergen and Essex counties. For all your foot and ankle problems, contact our Wayne office at (973) 925-4111 for an appointment.