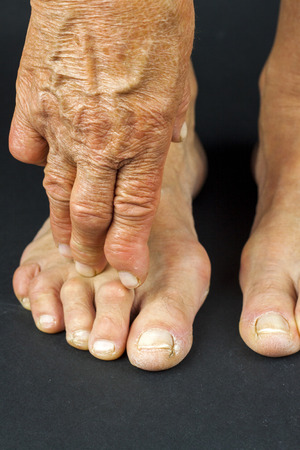 Hammertoe is a condition that can cause the joints of your middle toes to bend in the shape of a hammer, which is how it got its name. Although your big toe is not susceptible to becoming bent in this manner, bunions can cause it to bend in other ways.
The main cause of hammertoes is an imbalance of tendons and muscles that may be inherited. Wearing tight-fitting shoes like high heels can increase the chances of getting hammertoe.
Some signs and symptoms of hammertoes include the following:
A bent shape, with burning, redness, and tenderness in the affected toes
Blisters may be caused by your toes rubbing on the insides of your shoes
Patients with hammertoes are also more likely to develop corns and bunions
Treatments for hammertoes may include:
Orthotic inserts and padding—Orthotic inserts can be used to cushion the toe and help correct any imbalances between the tendons. Moleskin pads can isolate corns and prevent them from rubbing against shoes and getting worse.
Wear the right shoes—Your shoes need to have a wide toe box and lower heels to help remove the pressure from the toe.
Splinting or strapping to realign bent toes
Pain relief—Ibuprofen or other NSAID can reduce pain and swelling.
Physical therapy—Flexing and strengthening exercises can help to straighten out the toe.
The best time to treat hammertoes is when they still retain some flexibility, so see your podiatrist as soon as possible. At Podiatry Center of New Jersey, Dr. Russell Samofal treats a variety of conditions such as sports injuries, diabetic foot problems, pediatric foot conditions, toe deformities, arthritis, nail fungus, arch problems and heel pain. Equipped with advanced technologies and a dedicated staff, Podiatry Center of New Jersey provides individualized high-quality care for patients all across Morris, Passaic, Bergen and Essex counties. For all your foot and ankle problems, contact our Wayne office at (973) 925-4111 for an appointment.