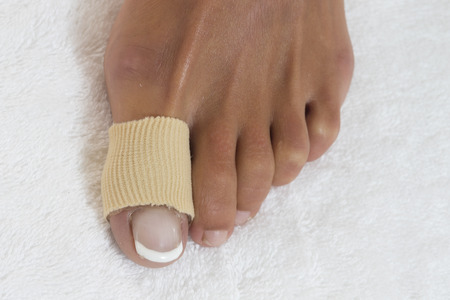 There are many misconceptions when it comes to what should be done about a broken toe. One of the main myths about a broken toe is that if you can walk on the foot, then the toe can't be broken. This is not the case!
A toe may have a minor break or a hairline fracture and may not exhibit constant pain. For less severe toe injuries, rest, ice, and elevation may be enough to allow the toe to heal. However, if swelling and pain persist for more than a day or two, see your foot doctor.
Properly treating a broken toe is essential to avoid future complications including chronic pain and arthritis. If a broken toe heals in a bent position, it may need to be rebroken by your foot doctor in order to straighten it out.
Treatments for a broken or severely sprained toe include the following:
Splints and braces—These orthotic devices can help isolate and cushion the affected toe.
Immobilization with a boot—A rigid boot is worn to immobilize the foot and protect the injured toe.
Buddy taping—A broken or severely sprained toe can be partly immobilized by taping it to an adjoining toe.
If you think you may have broken a toe, see your foot doctor for the correct diagnosis and treatment. At Podiatry Center of New Jersey, Dr. Russell Samofal treats a variety of conditions such as sports injuries, diabetic foot problems, pediatric foot conditions, toe deformities, arthritis, nail fungus, arch problems and heel pain. Equipped with advanced technologies and a dedicated staff, Podiatry Center of New Jersey provides individualized high-quality care for patients all across Morris, Passaic, Bergen and Essex counties. For all your foot and ankle problems, contact our Wayne office at (973) 925-4111 for an appointment.