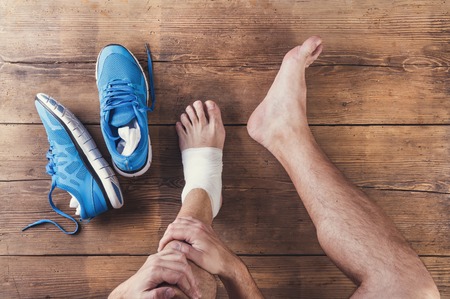 Ankle pain has many possible causes and sometimes it can be difficult to pinpoint the exact source of the pain. Initially, ankle pain can be treated with the RICE method (Rest, Ice, Compression, Elevation). If pain and swelling do not subside after a day or two, you may have a more serious injury requiring the assistance of your foot doctor.
Three major causes of ankle pain include:
Ankle sprains—The ligaments and tendons that hold your ankle joint together can become severely stretched, torn, and even broken when the ankle is twisted, turned, or rolled with too much force. Ankle sprains need to be treated promptly and adequately in order to prevent future or chronic ankle problems.
Achilles tendonitis—This is the large tendon that connects the bottom of your heel to the muscles in your calf and lower leg. Stressful activities like long distance running and sports participation can cause this tendon to become severely stretched or torn. The pain often radiates into the ankle.
Arthritic conditions—Stiffness caused by arthritis can make the ankle joint painful and difficult to move. Gout is a painful arthritic condition caused by excess uric acid in the blood that crystalizes into the joints of the feet and ankles.
If you are experiencing pain and discomfort in your ankles, see your podiatrist for proper evaluation and care. At Podiatry Center of New Jersey, Dr. Russell Samofal treats a variety of conditions such as sports injuries, diabetic foot problems, pediatric foot conditions, toe deformities, arthritis, nail fungus, arch problems and heel pain. Equipped with advanced technologies and a dedicated staff, Podiatry Center of New Jersey provides individualized high-quality care for patients all across Morris, Passaic, Bergen and Essex counties. For all your foot and ankle problems, contact our Wayne office at (973) 925-4111 for an appointment.