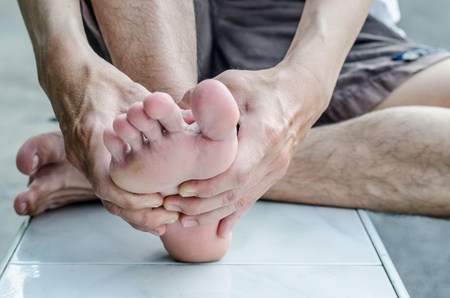 A plantar fibroma is a condition caused by a thickening of the fibrous tissue on the bottom of your foot. This tissue is called the plantar fascia. As the fibroma grows, nodules may appear on the fibrous filaments that combine to make your arch, causing your toes to bend and stiffen.
Fibromas grow very slowly and can remain dormant for years, and then suddenly start causing problems again.
The symptoms and causes of plantar fibroma include the following:
Pain and discomfort while standing and walking—The actual plantar fibroma itself does not usually cause any pain, but nerve pressure and rubbing on your footwear can be very painful and debilitating.
Hereditary influence—While the actual cause of plantar fibroma is not completely known, it tends to run in families and more often affects people with overpronation.
Injury to the bottom of the foot—Wearing shoes that are not supportive can contribute to an arch injury that stretches the tissue of the plantar fascia and increase the chance of fibromas.
Treatment for plantar fibroma:
Conservative treatments for plantar fibroma involve the use of custom orthotic shoe inserts to help with proper weight distribution. Shoes with a wide toe box and rigid soles are also very helpful.
If you are experiencing pain in your arches, see your foot doctor for the proper diagnosis and treatment. At Podiatry Center of New Jersey, Dr. Russell Samofal treats a variety of conditions such as sports injuries, diabetic foot problems, pediatric foot conditions, toe deformities, arthritis, nail fungus, arch problems and heel pain. Equipped with advanced technologies and a dedicated staff, Podiatry Center of New Jersey provides individualized high-quality care for patients all across Morris, Passaic, Bergen and Essex counties. For all your foot and ankle problems, contact our Wayne office at (973) 925-4111 for an appointment.