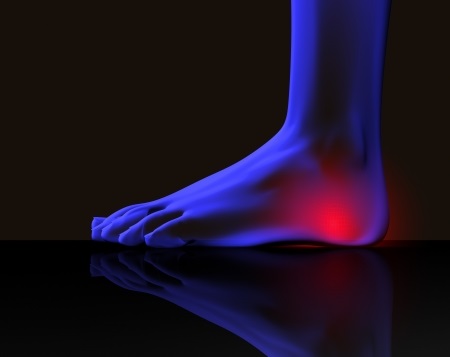 Debilitating heel pain from a small bump on the back of your heel could be caused by a Haglund's deformity. In this condition, a small bump of cartilage grows in the location where your Achilles tendon attaches to the heel bone. It is a condition that often affects those who wear tight fitting shoes like high heels, which is why this condition is referred to as a "pump bump.
People who have untreated high arches and who suffer with the constant rubbing on the heel from poorly-fitting shoes are probably the most susceptible to developing this problem.
Treatments for Haglund's deformity include the following:
Wearing sandals or clogs— that don't rub on the heel will provide some relief.
Icing the heel area— for twenty minutes at a time will reduce swelling and discomfort.
Heel pads— may be added to your footwear to relieve the pain from rubbing.
Achilles tendon tightness— can be alleviated with a variety of calf stretching exercises.
Ibuprofen or Tylenol— will relieve pain and inflammation.
Orthotic inserts—Stress and pressure can be redirected using these inserts.
Proper foot protection—Wear an immobilizing walking boot to allow healing to occur more quickly.
If you are experiencing a painful bump on the back of your heel, schedule an appointment with your foot care specialist for the proper diagnosis and treatment. At Podiatry Center of New Jersey, Dr. Russell Samofal treats a variety of conditions such as sports injuries, diabetic foot problems, pediatric foot conditions, toe deformities, arthritis, nail fungus, arch problems and heel pain. Equipped with advanced technologies and a dedicated staff, Podiatry Center of New Jersey provides individualized high-quality care for patients all across Morris, Passaic, Bergen and Essex counties. For all your foot and ankle problems, contact our Wayne office at (973) 925-4111 for an appointment.