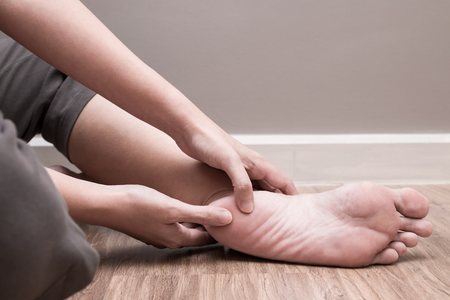 The inflammatory condition called bursitis frequently affects the shoulder, knee, hip, and elbow. However, it can also strike in the heel area behind the Achilles tendon causing symptoms that are similar to tendonitis, but it's not an inflamed tendon that is causing the heel pain. Instead, the bursal sacs that are behind the Achilles tendon fill up with fluid and become swollen, irritated and painful.
Some treatments for bursitis include the following:
Resting and icing—Pain and swelling from bursitis will subside by resting and icing the swollen area twice an hour for several days. Pain medications such as ibuprofen or Tylenol will also help. Elevate your foot while resting to help decrease swelling.
Physical therapy exercises—A variety of flexing and stretching exercises will decrease stiffness and improve muscle strength which will both help to relieve pressure on the heel.
Redirect stress and pressure—To avoid irritating the bursae, alternate your movements to avoid repetitive motions and stop overly pressuring the heel area. Custom orthotic inserts are great for redirecting pressure thereby allowing the bursal sacks to recede. You can also switch to other activities like swimming to help give your feet a rest.
If you have pain in your heel, see your foot doctor for the correct diagnosis and treatment.
At Podiatry Center of New Jersey, Dr. Russell Samofal, Dr. Dolan Chowdhury, Dr. Jaclyn Ramirez, and Dr. Chris A. Obiarinze treat a variety of conditions such as sports injuries, diabetic foot problems, pediatric foot conditions, toe deformities, arthritis, nail fungus, arch problems and heel pain. Equipped with advanced technologies and a dedicated staff, Podiatry Center of New Jersey provides individualized high-quality care for patients all across Morris, Passaic, Bergen and Essex counties. For all your foot and ankle problems, contact our Wayne, NJ office at (973) 925-4111 for an appointment.