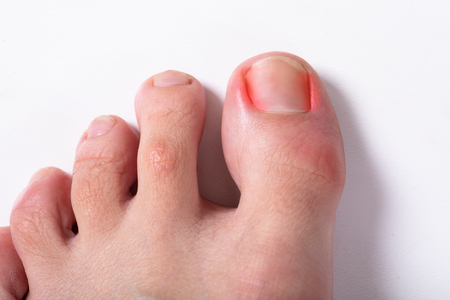 While it is true that overly-curved toenails and a tendency for developing toe problems like ingrown toenails can be partly inherited, you can decrease your chances of developing this painful condition with some proactive steps.
3 tips for sidestepping ingrown toenails:
Cut your toenails properly—Keep your toenails a little long and cut them straight across to help prevent the sharp leading edge from growing into the tender skin on the edge of your toe.
Wear shoes that are comfortable and supportive—Have your feet properly measured each time you buy shoes. Better yet, have a computerized gait analysis done at your foot doctor. We will recommend the proper arch supports and orthotic inserts that are used to treat many foot and ankle conditions including ingrown toenails.
Inspect your feet regularly—Noticing and treating toenail problems early will make them easier to treat and much less painful. Making a habit to check your feet at least once a month for skin and nail problems is a good idea. If you have diabetes, daily foot inspections are recommended since nerve damage can cause cuts and infections to otherwise go unnoticed, possibly culminating in amputation.
Sometimes ingrown toenails that are hereditary or caused by an injury can't be easily prevented. Be sure to see your foot doctor for the proper treatment. At Podiatry Center of New Jersey, Dr. Russell Samofal, Dr. Dolan Chowdhury, Dr. Jaclyn Ramirez, Dr. Magdalena Marcinek, and Dr. Chris A. Obiarinze treat a variety of conditions such as sports injuries, diabetic foot problems, pediatric foot conditions, toe deformities, arthritis, nail fungus, arch problems and heel pain. Equipped with advanced technologies and a dedicated staff, Podiatry Center of New Jersey provides individualized high-quality care for patients all across Morris, Passaic, Bergen and Essex counties. For all your foot and ankle problems, contact our Wayne office at (973) 925-4111 for an appointment.