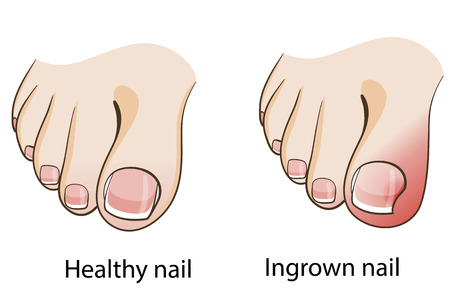 Once an ingrown toenail gets started it can be extremely painful and debilitating as the nail digs into the soft skin on your toes. Fortunately, with some easy steps, you can prevent ingrown toenails from starting in the first place.
Ingrown toenails can be prevented with these simple methods:
Use the correct toenail cutting method—Be careful to cut your toenails straight across and keep them a little long so they extend just beyond the end of the toe. This will help prevent a sharp nail edge from digging into your tender skin.
Properly-fitted footwear is essential— Choose shoes that have a wide toe box so your toes have room to move without hitting the inside of your footwear. Avoid high heels and other tight-fitting shoes since they scrunch your toes together and increase toe problems.
Properly treat flatfoot—If you have untreated flat feet and overpronation problems it can cause your foot to roll outward with the added pressure increasing the tendency to develop an ingrown toenail. Arch supports and orthotic inserts are a great way to fix pronation issues, so talk to your foot doctor.
If you have toe pain caused by ingrown toenails, see your foot doctor for the proper care.
At Podiatry Center of New Jersey, Dr. Russell Samofal, Dr. Dolan Chowdhury, Dr. Jaclyn Ramirez, Dr. Chris A. Obiarinze, Dr. Eric Freiler, Dr. Owen Morris, Dr. Farah Lakhram, Dr. Meltem Ates, Dr. Zakiyyah Waters, Dr. Ashley Kim, and Dr. Riddhi Shah treat a variety of conditions such as sports injuries, diabetic foot problems, pediatric foot conditions, toe deformities, arthritis, nail fungus, arch problems, and heel pain. Equipped with advanced technologies and dedicated staff, our 11 conveniently located offices provide individualized high-quality care for patients all across Essex, Hudson, Middlesex, Ocean, Passaic, and Union Counties. For all your foot and ankle problems, contact our Wayne, NJ office at (973) 925-4111 for an appointment.