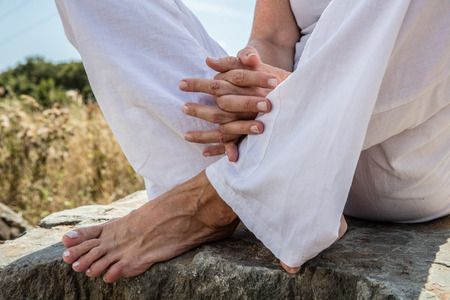 As you get older, all those years of walking, running, working, and dancing start to catch up to your feet and you experience more frequent and severe foot and ankle pain. You are also more likely to suffer from diseases like arthritis. Seeing your foot doctor more often as you age will help mitigate the inevitable foot and ankle disorders you will encounter.
5 common ways that aging affects your feet include the following:
Arthritis develops in the feet and ankles—Arthritis often crops up as we age affecting the foot and ankle joints causing considerable pain, stiffness, and discomfort.
Your feet get bigger—Gravity and pressure cause your feet to get wider and longer as you age, so be sure to get properly fitted each time you get new shoes. Talk to your foot doctor about custom orthotics to help treat and prevent many foot and ankle issues.
Increase in toenail troubles—Toenails tend to become thicker and more brittle and that can make them hard to cut properly. Have them trimmed at your foot doctor's office to avoid complications like ingrown toenails and bleeding.
Infections are more common—Your immune system tends to weaken as you get older with a corresponding increase in fungal and bacterial infections.
Dry skin conditions increase—Your skin gets more easily dehydrated as you get older so be sure to drink plenty of healthy fluids throughout the day. Have any thick calluses treated by your foot doctor to help avoid complications.
If you are experiencing age-related foot and ankle pain and discomfort, see your foot doctor for the proper care. At Podiatry Center of New Jersey, Dr. Russell Samofal, Dr. Dolan Chowdhury, Dr. Jaclyn Ramirez, Dr. Chris A. Obiarinze, Dr. Eric Freiler, Dr. Owen Morris, Dr. Farah Lakhram, Dr. Meltem Ates, Dr. Zakiyyah Waters, Dr. Ashley Kim, and Dr. Riddhi Shah treat a variety of conditions such as sports injuries, diabetic foot problems, pediatric foot conditions, toe deformities, arthritis, nail fungus, arch problems, and heel pain. Equipped with advanced technologies and dedicated staff, our 11 conveniently located offices provide individualized high-quality care for patients all across Essex, Hudson, Middlesex, Ocean, Passaic, and Union Counties. For all your foot and ankle problems, contact our Wayne, NJ office at (973) 925-4111 for an appointment.