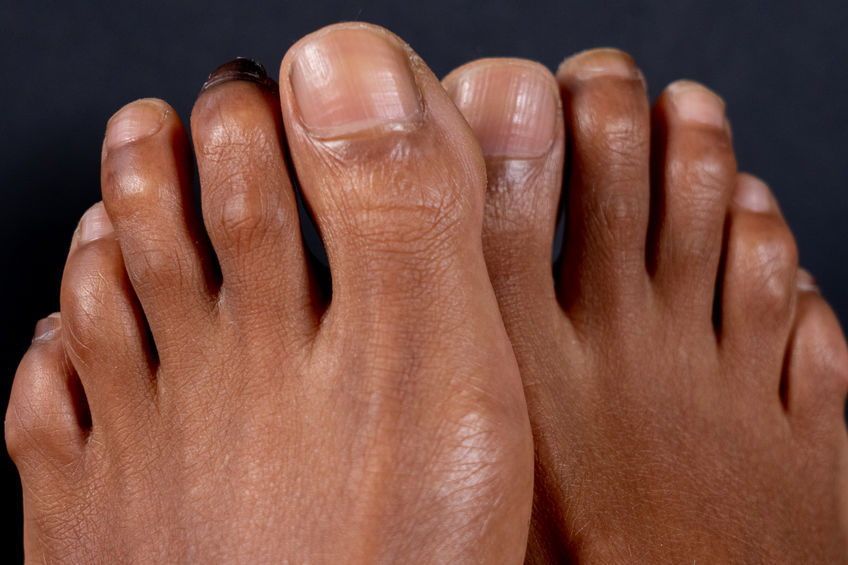 Hammertoe is a deformity that causes your toes to hold an abnormal position. It can be caused by shoes, the structure of your foot, trauma, and diseases. If you suffer from hammertoe, your toe will have a bend in the middle instead of holding the correct position. You will notice that the toes affected are usually the middle toes in between your big toe and pinky.
How to Treat Your Hammertoe
No tight shoes-tight shoes cause your toes to be pushed further into the position that they are already in. Ideally, your toe needs to be straight, not bent. Avoiding tight shoes is a must. A podiatrist will also recommend custom orthotics as they can be customized to your unique foot shape, and they will have adequate toe room.
Exercising-this will only work if your toes are still able to move. Once they are locked, this is no longer an option.  Using your toes, try to pick up a marble or crumple a towel. You will be strengthening the muscles and stretch the toes.
Splints-splints will stretch the tendons of your foot while simultaneously keeping your toe straight.
Surgery-if none of the other remedies work, you may find that surgery is needed to release your tendon for your toe to lay flat.
Don't let your toes cost you your ability to walk. Once your toes lock, you will see walking is difficult and extremely painful. You may also experience instability.
At Podiatry Center of New Jersey, Dr. Russell Samofal, Dr. Dolan Chowdhury, Dr. Jaclyn Ramirez, Dr. Chris A. Obiarinze, Dr. Eric Freiler, Dr. Owen Morris, Dr. Farah Lakhram, Dr. Meltem Ates, Dr. Zakiyyah Waters, Dr. Ashley Kim, and Dr. Riddhi Shah will help you deal with a plethora of different foot and ankle issues such as injuries, arch problems, and heel pain. With a dedicated staff and eleven offices across Essex, Hudson, Middlesex, Ocean, Passaic, and Union Counties, we provide individualized, high-quality care for all our patients. To visit us, call our office in Wayne, NJ, at (973) 925-4111.