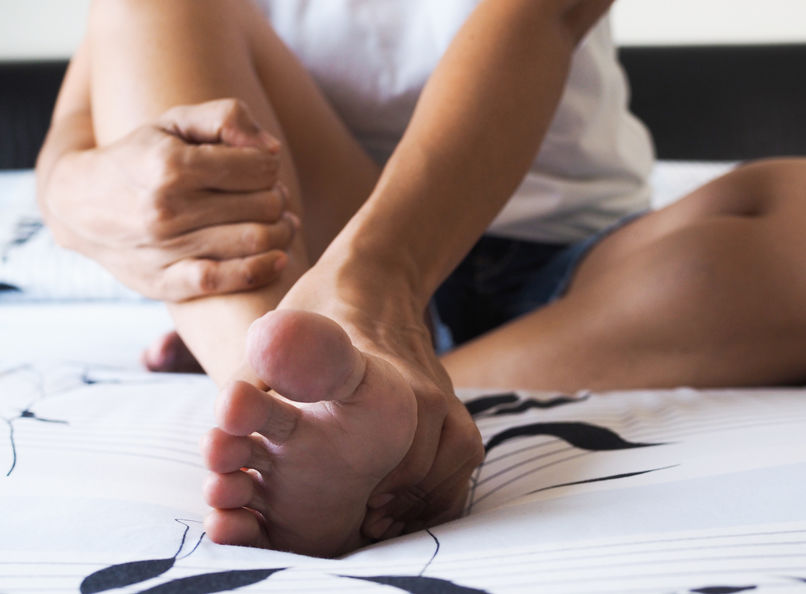 Plantar Fasciitis is a painful condition and can cause extreme discomfort. There are many reasons why this condition may afflict you, and the most common are walking barefoot, not having the proper arch support, high impact activity, weight gain, or arthritis. If you have weak muscles in your ankles that will cause this condition as well.
Treating Your Plantar Fasciitis
Change your routine–those who suffer this affliction need low impact activity instead of a higher impact. Try swimming instead of running.
Ice–you can ice your feet for fifteen minutes with an ice pack covered with cloth. Do not do this more than three times a day and for no longer than fifteen minutes. That will help with the inflammation and pain.
Healthy weight–weight gain can cause more pressure on your feet, causing more pain.
Night splints–a night splint is meant to stretch the calf and the arch of your foot as you sleep. Holding both at night allows you to have a better positioning.
Therapy–a physical therapist might be needed to show you exercises that can help you strengthen your muscles and help stretch the plantar fascia, so you have less pain.
Steroid medication–if the options above don't work, your podiatrist might recommend steroid injections. However, multiple shots are not beneficial, so they will only recommend this as a temporary solution and not a long-term one.
Surgery–if all other treatments have failed and the pain is too much to bear, you will need an operation to separate your plantar fascia from your heel bone. It is a simple procedure.
These tips will make your plantar fasciitis more manageable, but a podiatrist can help the pain management on a more permanent level.
At Podiatry Center of New Jersey, Dr. Russell Samofal, Dr. Dolan Chowdhury, Dr. Jaclyn Ramirez, Dr. Chris A. Obiarinze, Dr. Eric Freiler, Dr. Owen Morris, Dr. Farah Lakhram, Dr. Meltem Ates, Dr. Zakiyyah Waters, Dr. Ashley Kim, and Dr. Riddhi Shah treat a plethora of foot conditions including pediatric foot conditions, diabetic foot conditions, bunions, toe deformities and more. Our 11 offices provide the best care across the Ocean Passaic, Essex, Hudson, Middlesex, and Union Counties, offering patients the most advanced technology. Contact our office at (973) 925-4111 in Wayne NJ, for an appointment.